Index Home Available dolls Gallery 1 Gallery 2
Gallery 3 Gallery 4 Life Size Doll Gallery Commissions
Testimonials Archives Shows Articles Teach the Children Links
New LIFE SIZE Santa head with Painted eyes- Will be available soon!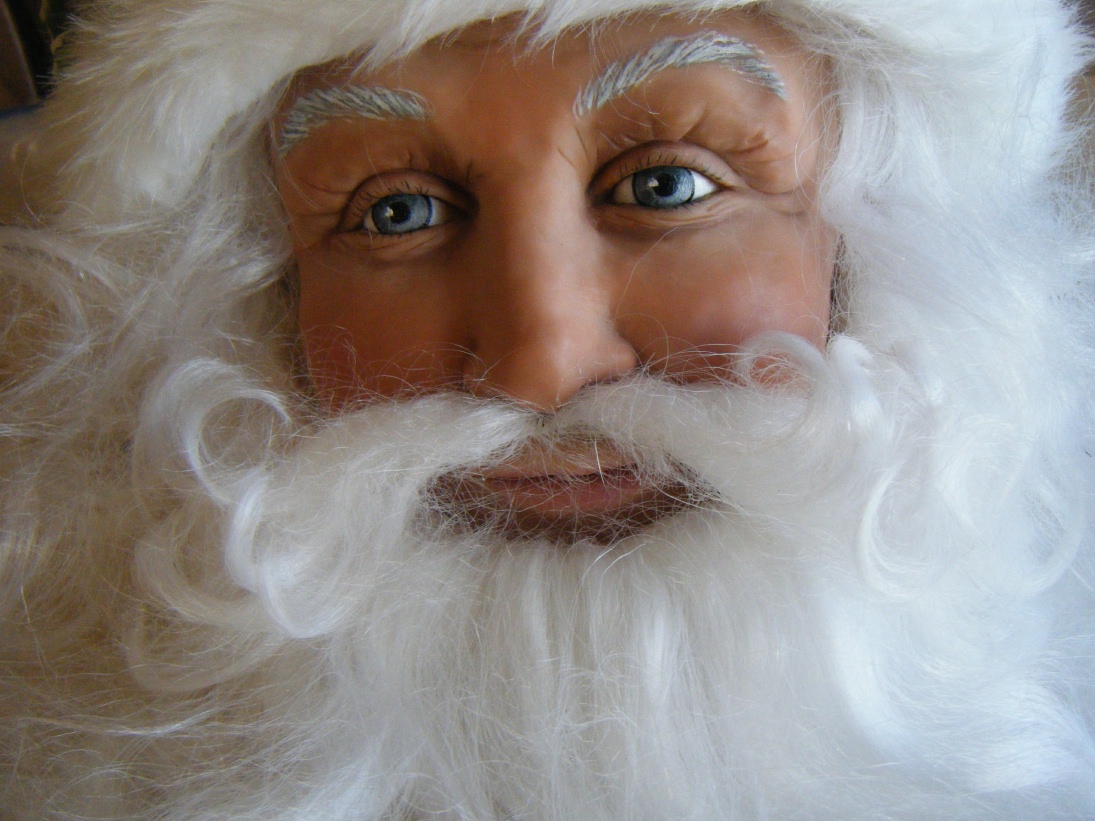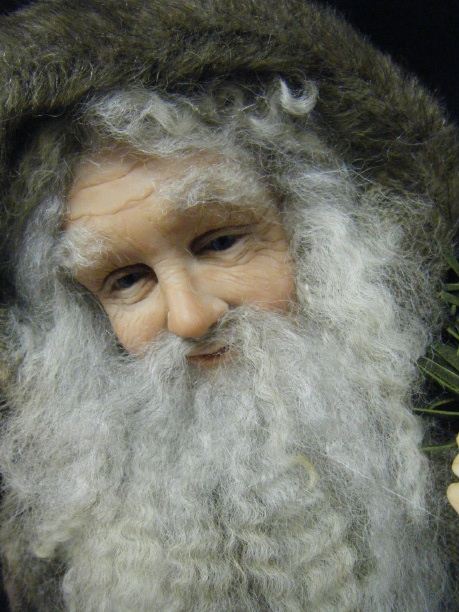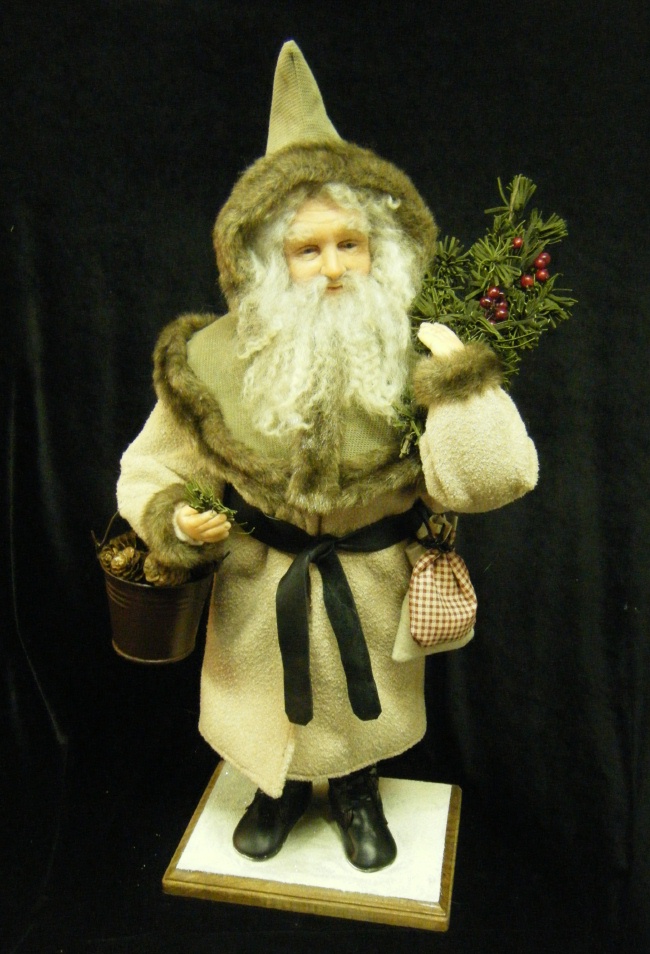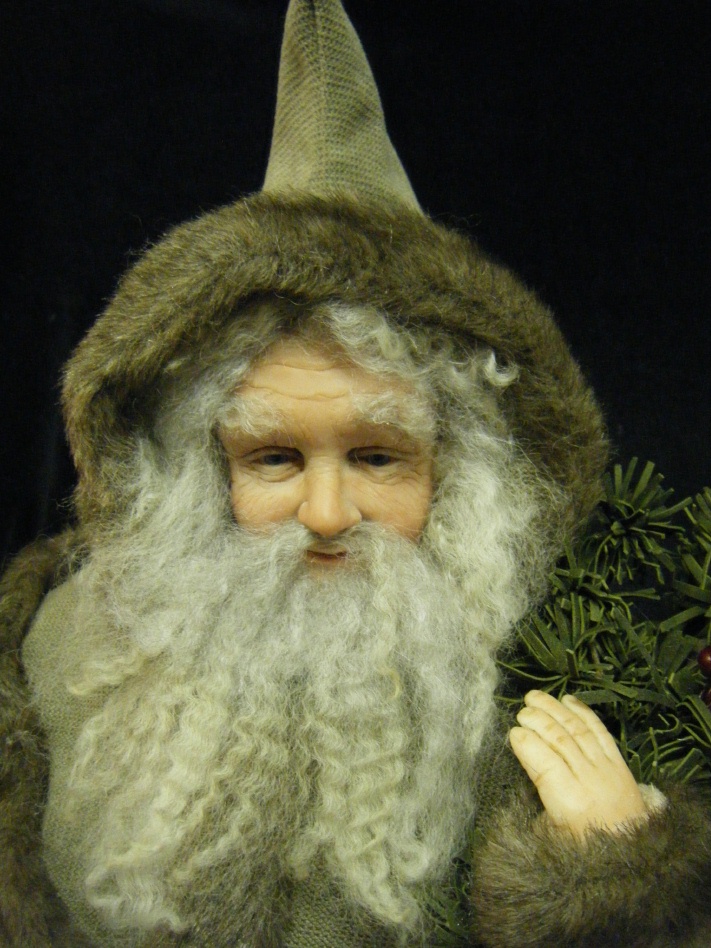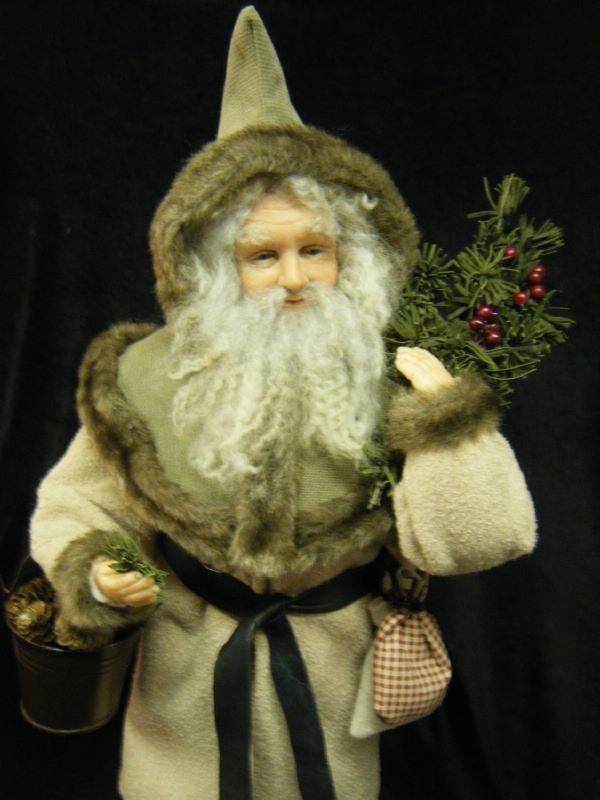 "The Wanderer" Now Available

This 23" One of a kind Santa is styled after the
German Santa's from long ago.
Santa's face and hands are handsculpted using prosculpt clay.
Santa has blue glass eyes (this is one of my earlier heads from years ago
that never knew what he wanted to be, until now).
Santa has a long gray wool beard.
He is dressed in a faux shearling style coat in beige, and a hood,
cape and pants in a dead sage green with medium brown fur
trimming cape, hood, and cuffs. His boots are black and
coat has a black leather tie belt.
Santa is holding a sprig of evergreen and berries,
and a and brown metal bucket filled with pine cones.
Two small feed bags hang from his belt.
New LIFE SIZE Santa head with Painted eyes- Will be available soon!
"The True Father of Christmas"
Available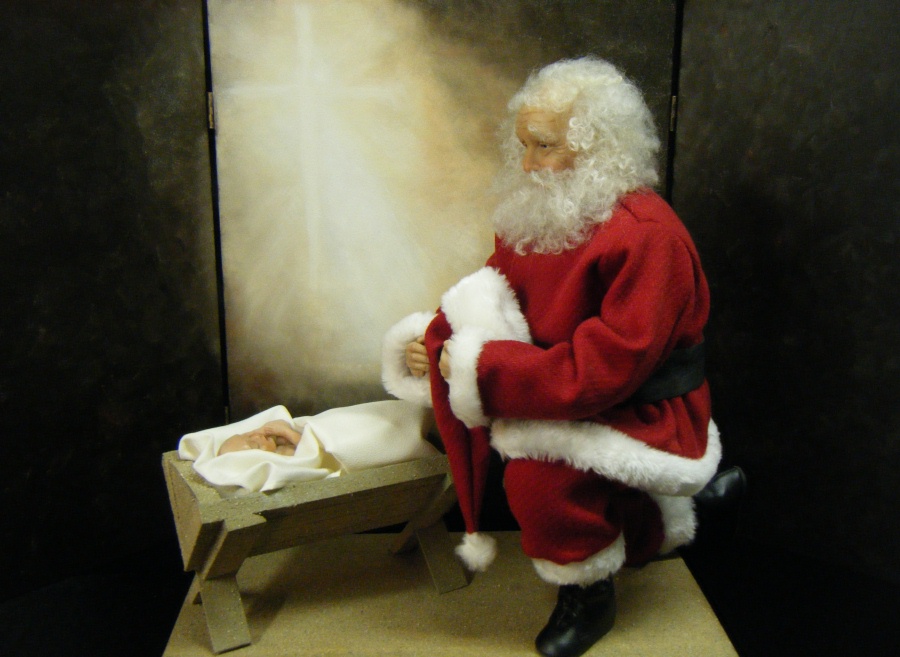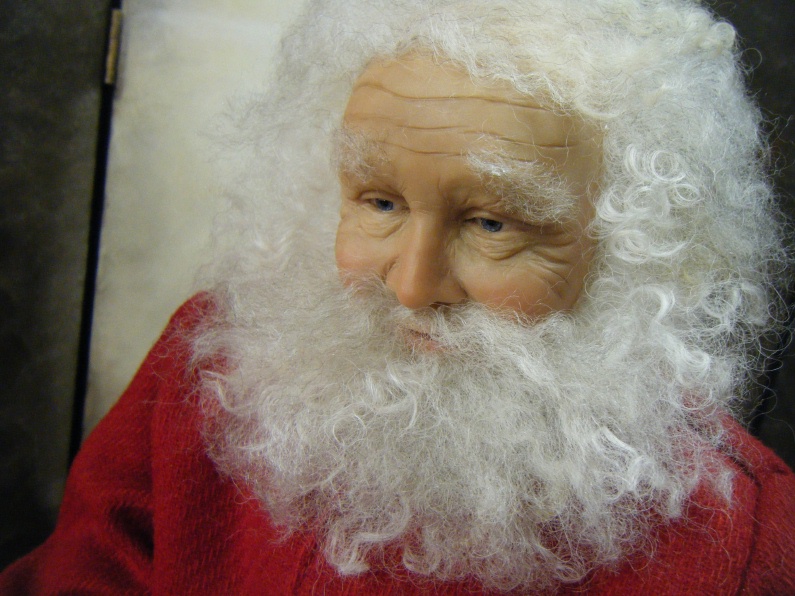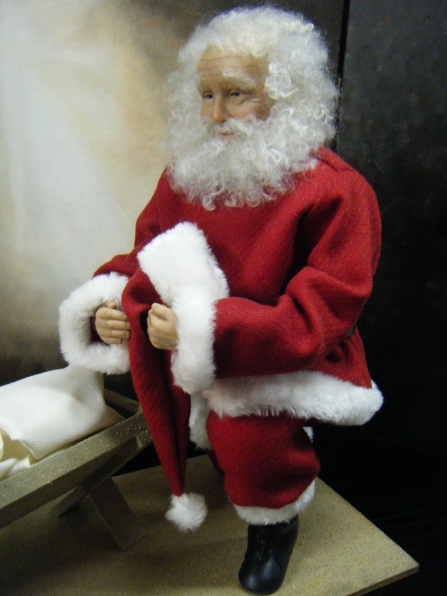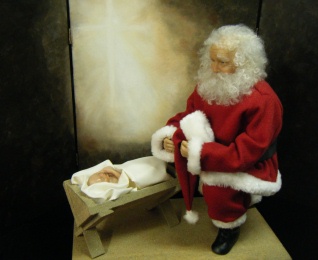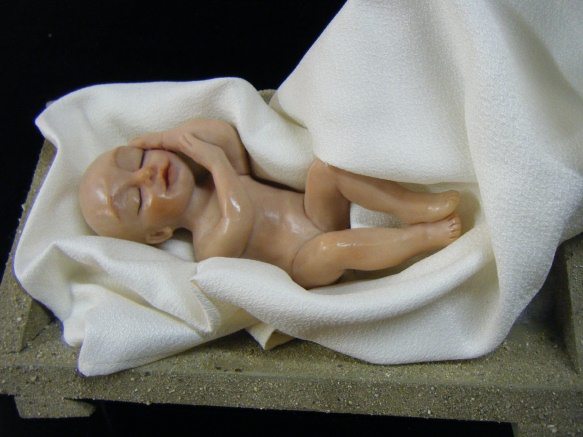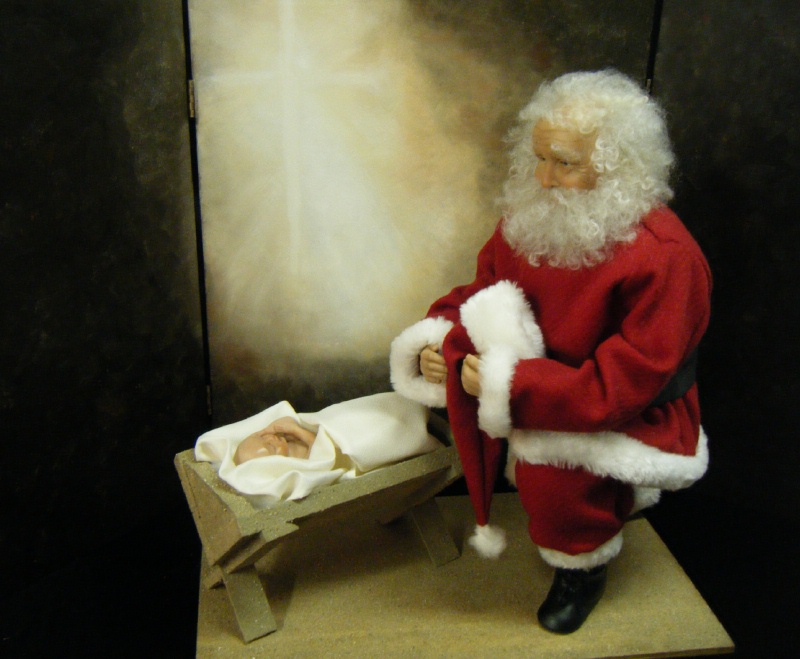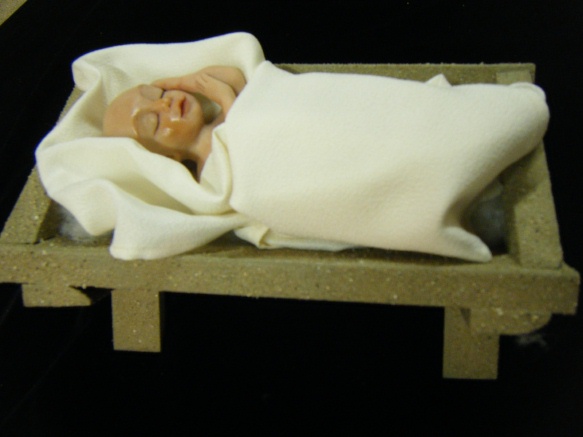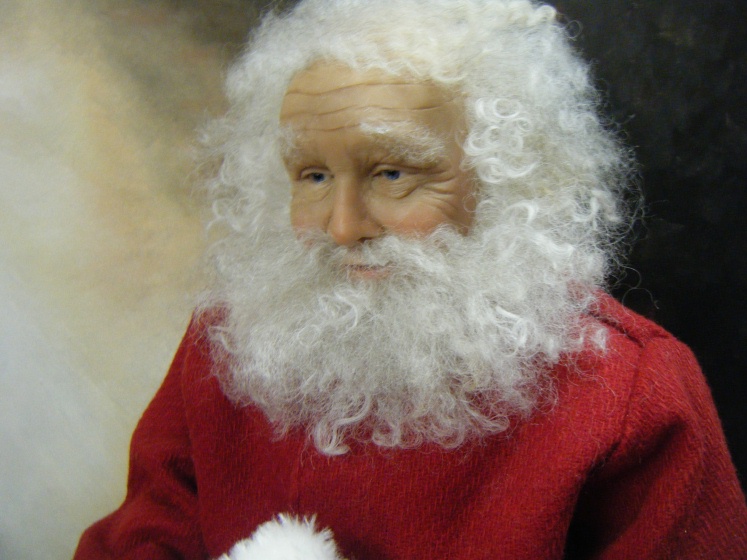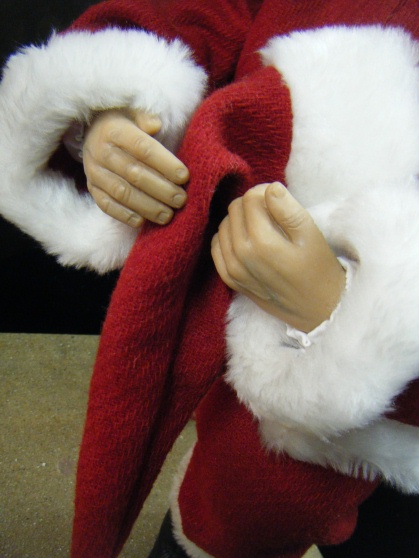 This "One of a kind" Vignette was created showing
the True meaning of Christmas with Santa bowing before baby Jesus.

The Santa and baby are both handsculpted using super sculpey clay.
Santa is dressed in a traditional red & white suit, and the baby is draped in white cloth.
The Santa's kneeling height is 21" (30" if standing). The Baby is a full sculpt and approx. 8".
Background is hand-painted in Oil, done by myself, and was made to fold and
form a unique backdrop using three stretched canvases (center canvas is 20" wide,
side canvases are each 12" wide, all are 24" tall, all three are hindged together).
The Manger, 11" x 7", was handmade using vintage wood, hand-painted,
and then finished with a sand texture. The Wood base is 11" x 20", and it also has the
sand textured finish applied.

I intentionally did not add any toys or any other items to the scene to
focus the attention to the true meaning of Christmas.
The glow of The Cross accents the deep colored background as a
bright light shining down to illuminate the tiny king.
This entire piece is truely a "One of a kind."
Now Available -LIFE SIZE-Old World Santa
click on photo for more views. Click here to see in Dolls magazine.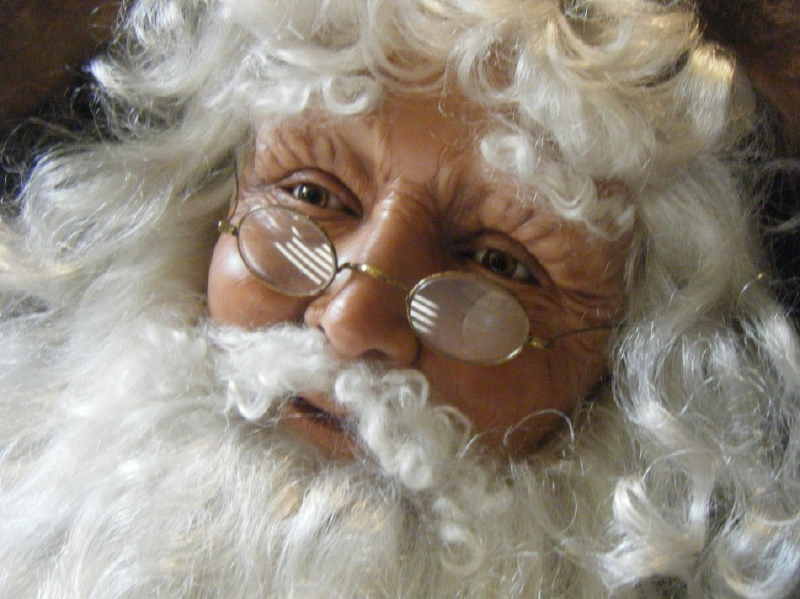 New Santa
"The Other Reindeer"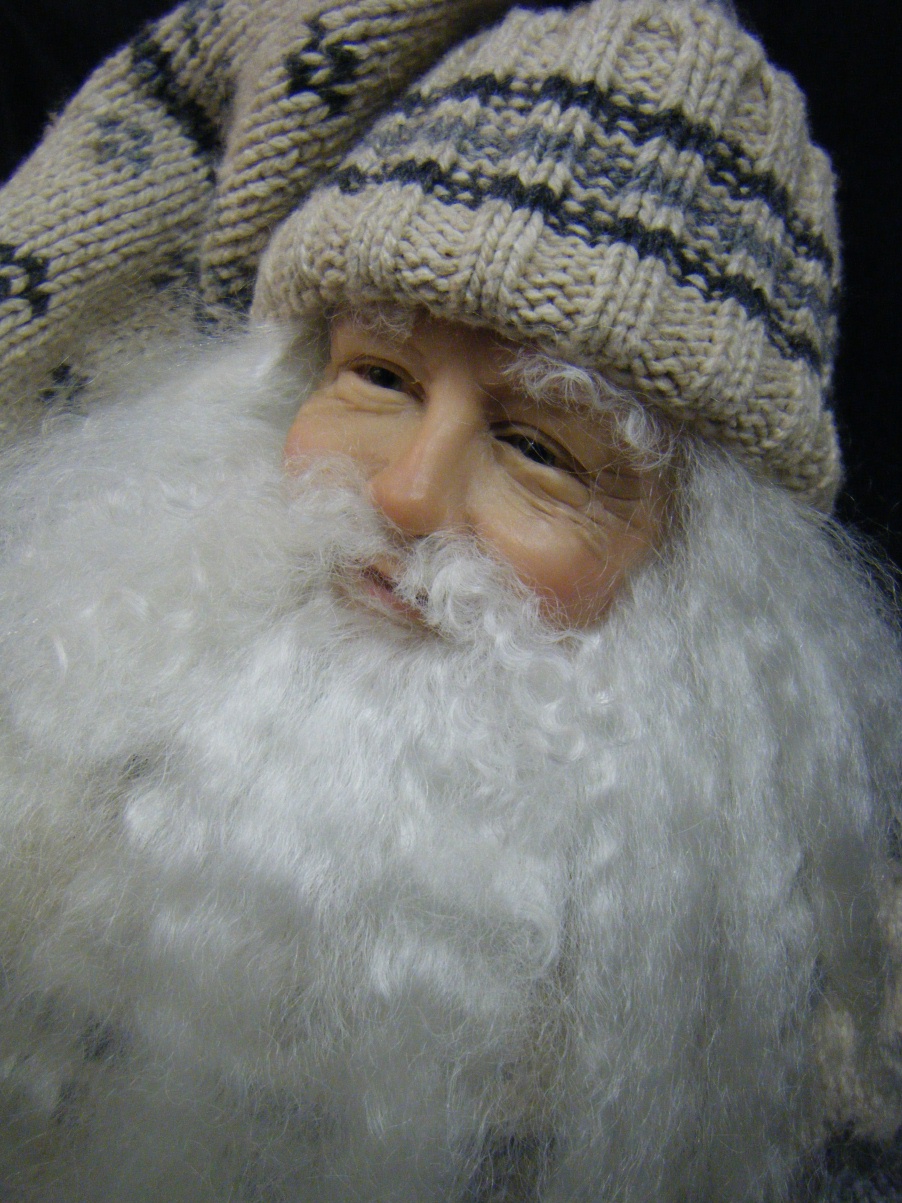 "The Other Reindeer"
Now Available
This One-of-a-kind Santa has a sparkle in his eyes, and a very happy expression.
He is approx. 22 "tall if standing.
Santa is seated in a very cute Antique wood and metal sled.
Santa's head & hands are hand-sculpted using Super Sculpey clay.
He has warm blue eyes (glass) and angora mohair beard.
He is wearing a cozy sweater with matching hat in beige, wedge-wood blue, and deep charcoal-
which goes really nice with the color of the Huskies.
He also wears faded blue jeans and work boots.
Santa accessories include a cute gray teddy on Santa's lap, along for the ride,
all being pulled by his four Cute Huskies.
He carries a gray suede knapsack with greenery on his back.
All pieces rest on a snow-painted wood base, that sparkles with with white German glass glitter.
Overall size of wood base is 32" x 17"
P "Piggy Back Santa" SOLD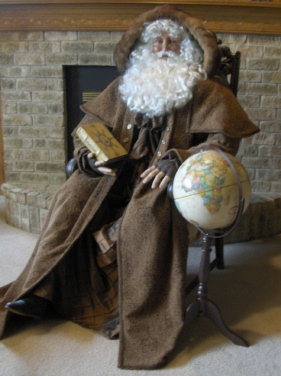 SOLD -- LIFE SIZE
seated Santa
Click here or on Photos for more info
Some changes may be coming to this Santa. Please check back.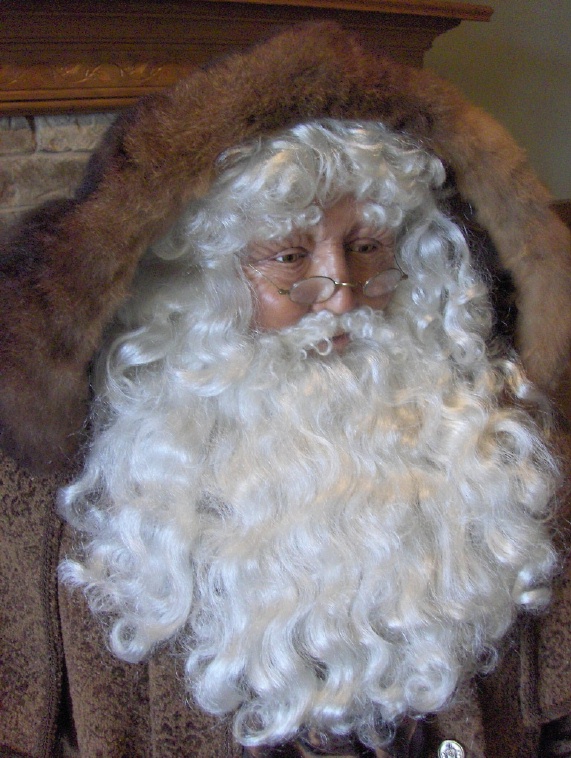 "Ole Carriage Santa "

SOLD

This Santa will be in Early American Life Holiday issue

coming out soon.

This One of a kind Santa is approx. 18" tall if standing. Santa's head and hands are hand-sculpted using super sculpey clay. Santa is dressed in a burgundy fleece hooded jacket and pants, trimmed with blackish brown faux fur. His long shirt is a brown/tan tiny check. He has a black leather belt and handmade leather boots also trimmed with matching fur. Santa is seated in a two-seater vintage-antique replica wooden carriage, 22" long x 11" deep x 9" high--with wire spoke wheels and steering wheel. In the back seat is his black leather toy bag, filled with greenery, small wrapped gifts, black toy train, and wooden toy sled.
"Victorian Sleigh Ride" Available
This One of a kind Victorian young lady is approx. 17" tall. Head, arms, legs & feet are all hand-sculpted and took many hours to sculpt with prosculpt polymer clay. She has very soft features with pretty green eyes (glass) and long lashes, also a beautiful reddish brown human hair wig.
Her body is a handmade wire armature, her bottom is weighted and all covered with poly batting and cloth body suit --all handmade. Her Victorian style dress with dropped waist and is made of stretch lace in cream, mauve, and plum floral. Dress has gold/white lace trim at the neckline and waist and also handmade slipper style shoes in suede. She wears a Olive Satin coat, trimmed in real silver mink around hood, with a matching fur muff.
Coat is edged with a pretty dark olive lace sequin trim.
She is seated in a wood sleigh, 11 x 18 (box) overall length is 30" with runners.
Some pictures show the sleigh without the snow edge that was added later, using German glass white glitter to give it a snowy sparkle.
Santa Shadow box. SOLD updated 12/08/09

OOAK Life size Santa head, inside handmade oak shadow box (frame and box painted black and copper). Background is Original hand-painted Landscape (acrylics). Sculpting and Painted Scene - All

done by myself.

3-D scene has scenic background-- white birch trees and greenery in foreground and snow covered evergreens in background (shadow box is approx. 27" long x 31" wide x 6" deep) frame.

This Large One of a kind Art piece will also come with a black floor Easel to make it easy to display and set up anywhere is your home during the holidays or anytime of the year, COMPLETELY DUST FREE.
"Victorian Santa & little boy" SOLD
This One of a kind Santa above is approx. 20" tall. Santa has a gentle face with blue eyes (glass)
Santa's head and hands are handsculpted using prosculpt clay.
Santa's long coat is a deep burgundy 100% pure wool (looks more red in pictures), but it is burgundy.
Coat is trimmed with nice wide strip on bottom of real dark brown mink fur,
also hood, cuffs and down front of coat.

His under-gown is a rich Victorian looking tapestry fabric, in colors of, tan, brown, deep burgundy, gold, green, rose.
Santa stands on a wood base painted with snow and glitter.
His accessories include a small wood sled and old lantern, & branch of holly.
His little friend is a (small boy), with a precious face. His head is handsculpted in prosculpt light, with big blue eyes and blonde hair. He is dressed in a brown fleece snowsuit also trimmed in the mink fur.
He is seated in a small wicker sleigh holding a small schnauzer black dog, and holly.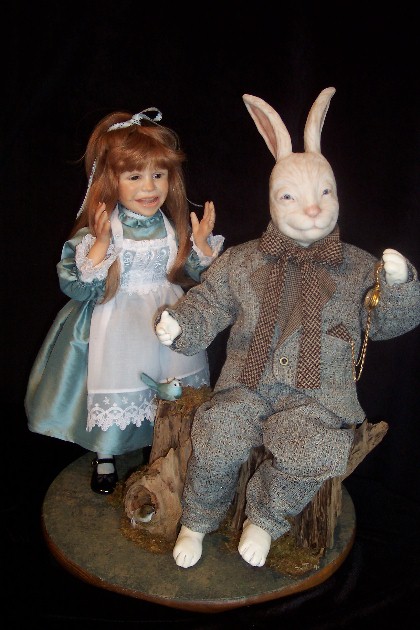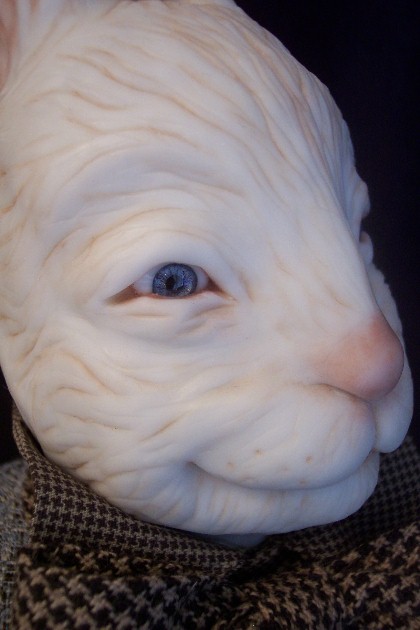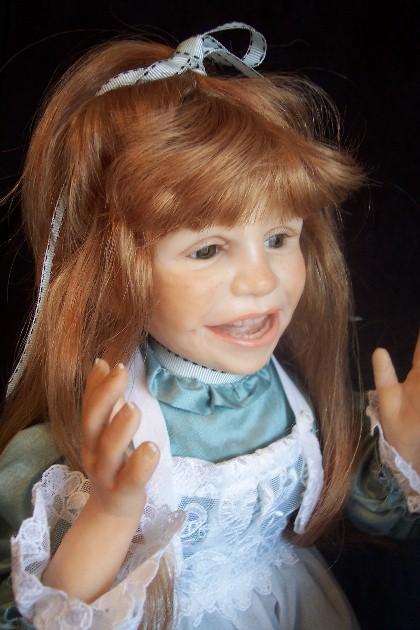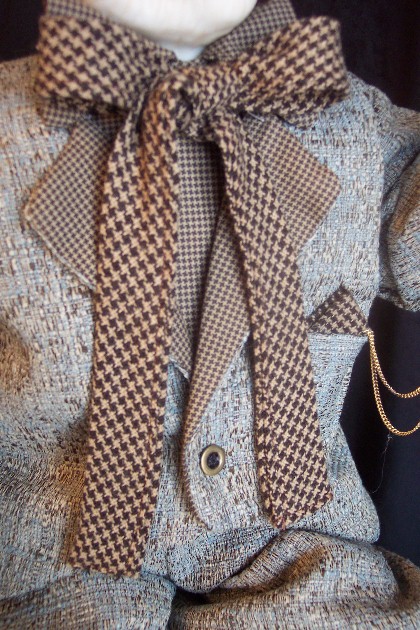 Late, I'm late, I'm late"

Available


This vignette of Alice & the White Rabbit was inspired from the story "Alice in Wonderland."
Both figures are "One of a kind" and hand-sculpted using cernit and apoxie clay and cloth stuffed bodies.
Alice, 21" tall, has German blown glass eyes in a pretty blue topaz color and long strawberry blonde human hair wig from France. Her (teal )blue dress is made from 100% silk with matching silk pantaloons, with sheer white apron made from antique fabric & lace from England. She wears off-white tights and black patent leather shoes.
The White Rabbit is approx. 23" tall seated. His head is hand-sculpted using cernit clay with blue eyes (glass). Rabbit paws and feet are sculpted with apoxie clay and painted. He is dressed in a coordinating teal/brown linen suit with brown petite-checked shirt and brown hounds-tooth wool ribbon around neck. He also holds a small gold pocket-watch and is seated on a cypress tree stump set on hand-painted wood base decorated with moss and birds.