Gallery 4
Index Home Available dolls Gallery 1 Gallery 2
Gallery 3 Gallery 4 Life Size Doll Gallery Commissions
Testimonials Archives Shows Articles Teach the Children Links
"Special Delivery" Sold
please be patient for pictures to load
This Large 34" One-of-a-kind Santa has a gentle expression. His head starts out as a ball of tinfoil then prosculpt polymer clay is applied to the foil head handsculpting the facial features. Hands are done the same using a handmade wire armature inside the clay. I use NO molds for any part and NO patterns for their clothing. His green eyes are glass, and he has a angora mohair beard & hair. Santa is dressed in a deep red coat trimmed in brown &tan tipped Fox fur. His pants and hat are done in a deep red tapestry fabric. Hat is also trimmed with the Fox fur. Santa wears brown boots. Accessories include his antique oak rocker with wicker seat 23" high x 12" x 14" seat 20" runners. His feet rest on a handmade foot rest upholstered in red faux suede. Santa holds a medium brown Boyds bear, antique style doll, and name list. If you want a personalized list, please let me know the names you would like on the list.
"Christmas Dreams" sold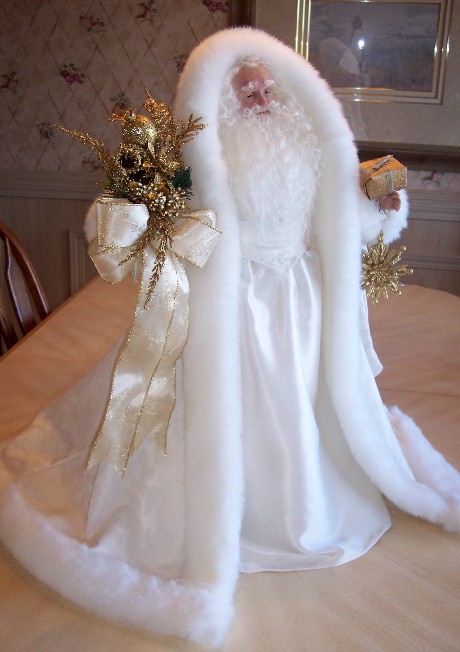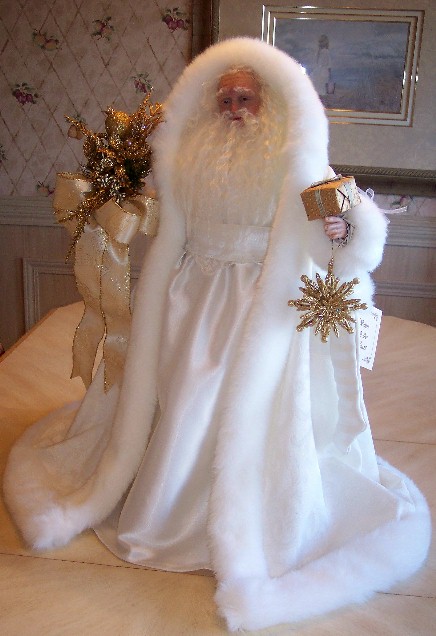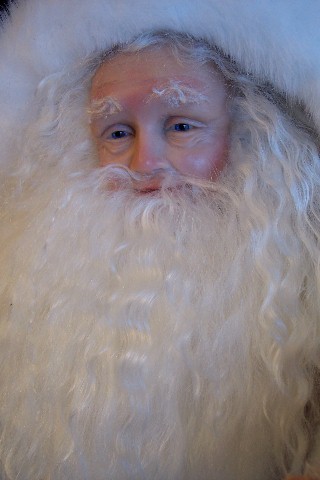 This One of a kind Father Christmas is approx. 25" tall. His head and hands are hand-sculpted using prosculpt polymer clay. This Santa has very kind blue eyes (made of fade resistant glass). His beard & hair is made of white angora mohair. Santa is wearing a long white brocade coat with hood in a beautiful fabric in a white scroll pattern all trimmed with a off-white faux fur. His under-dress is done in white satin fabric with a small imported lace applicate from England at his waist. This Santa has no pants or feet, but a long under-dress. His accessories include a spray of gold leaves and apple with long white/gold edged bow, he also holds a gold star ornament with small gift wrapped in gold paper.
"Ten Minute Break" sold
This One-of-a-kind Santa is approx. 27"tall if standing. His wooden sled is approx. 21" L. x 14" w. Santa's head, & hands are handsculpted using prosculpt polymer clay. He has glass eyes and angora mohair that has been curled. He has a beautiful wedge-wood blue 100% bulk knit sweater. Coat and hat are trimmed with ivory faux fur. Santa has his blue jeans on and wears fur trimmed hand-made off-white leather boots. Accessories include his wood & metal sled and ivory teddy bear. Santa is still a child at heart and is taking a break from the hectic Christmas rush!
"Better to Give" sold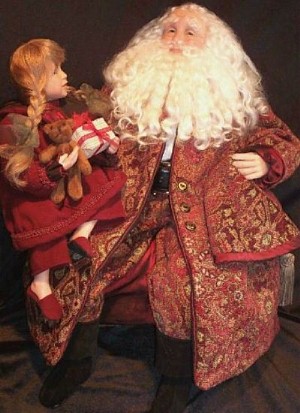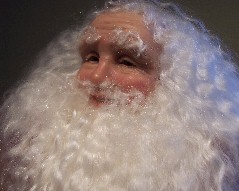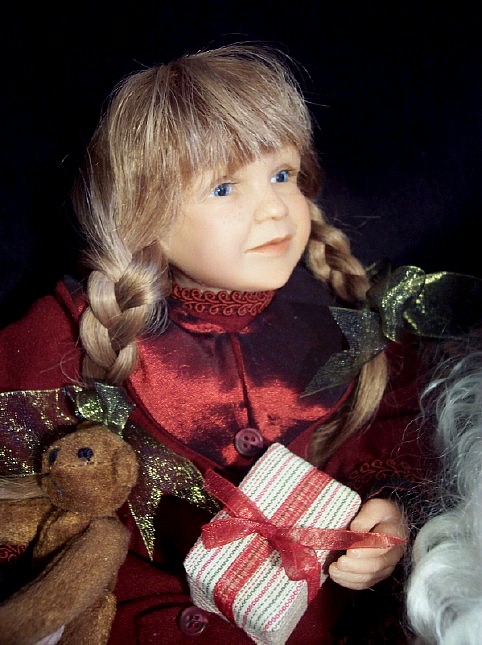 "Teddy Bear Repear" sold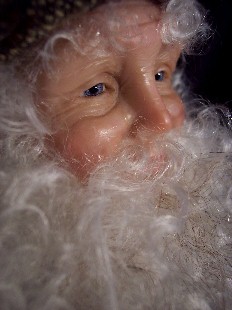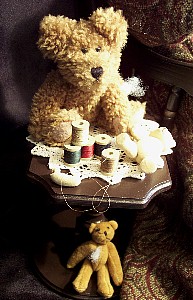 "jingle Bells"
sold
J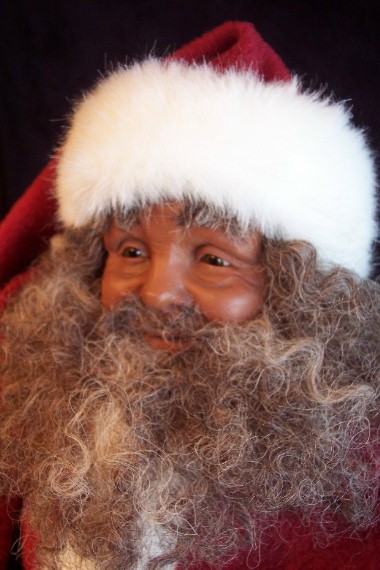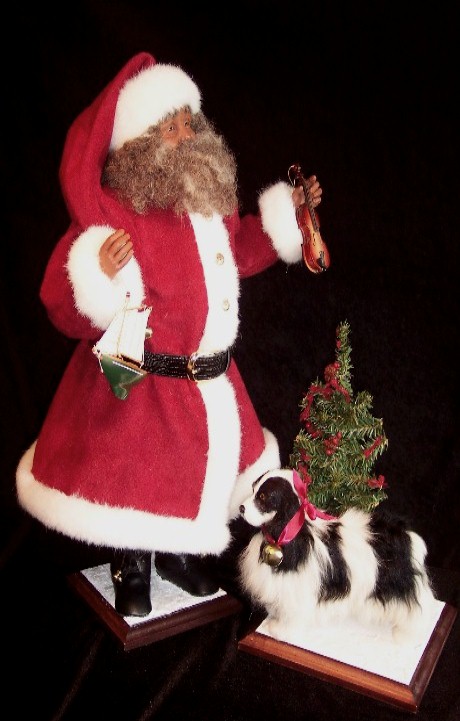 This Ethnic Santa is One of a kind and stands 24" tall.
His head and hands are hand-sculpted using prosculpt polymer clay. His beard is made of salt & Pepper wool. His coat & hat are made of soft deep red fleece (darker than picture shows) and trimmed with white faux fur. Santa has black pants & boots trimmed with jingle bells. Santa holds a small toy violin, sailboat.
Santa stands with his dog "Jingle Bell" a black & white springer spaniel.
All Santa's (Below) were commissioned..... and are in private collections.
These are some example's of Santa's made using heirloom fur, etc.
Thank you. . . Judy D. for choosing me to make your special family gifts
using your beautiful vintage silver fox fur.
"MULTI-COLOR SANTA WITH DONKEY"
"CANDLELIGHT"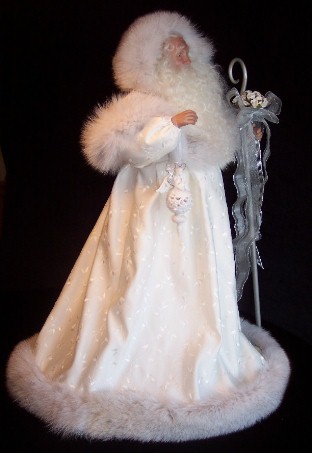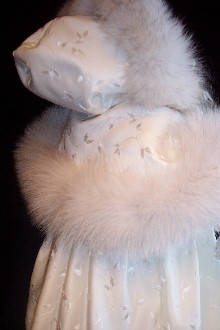 "CREAM/WHITE SANTA WITH DEER"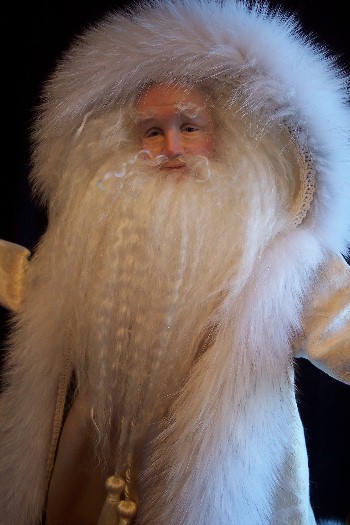 These Santa's below were done for Mary S. using her Mothers heirloom coats and furs.
it was a pleasure working with her creating her family keepsakes. . .Thank you Mary
"Santa in White"
using vintage white
fur coat lining as trim.
"Santa in Burgundy"
using a vintage beige
mink collar as trim
"Santa in Gold"
using a vintage two-tone
fur coat as trim
"Santa in Beige"
using a vintage brown mink collar as trim
"Santa in Purple velvet"
using a vintage purple coat as full coat & hat
New Santa- SOLD
18" Santa on antique replica car
"Pa-Rum-Pum-Pum-Pum"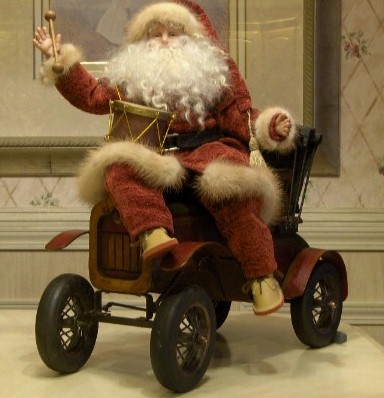 Seen with the heart-Karen Vander Logt
website & photos artist copyrighted 1999-2009