Index Home Available dolls Gallery 1 Gallery 2
Gallery 3 Gallery 4 Life Size Doll Gallery Commissions
Testimonials Archives Shows Articles Teach the Children Links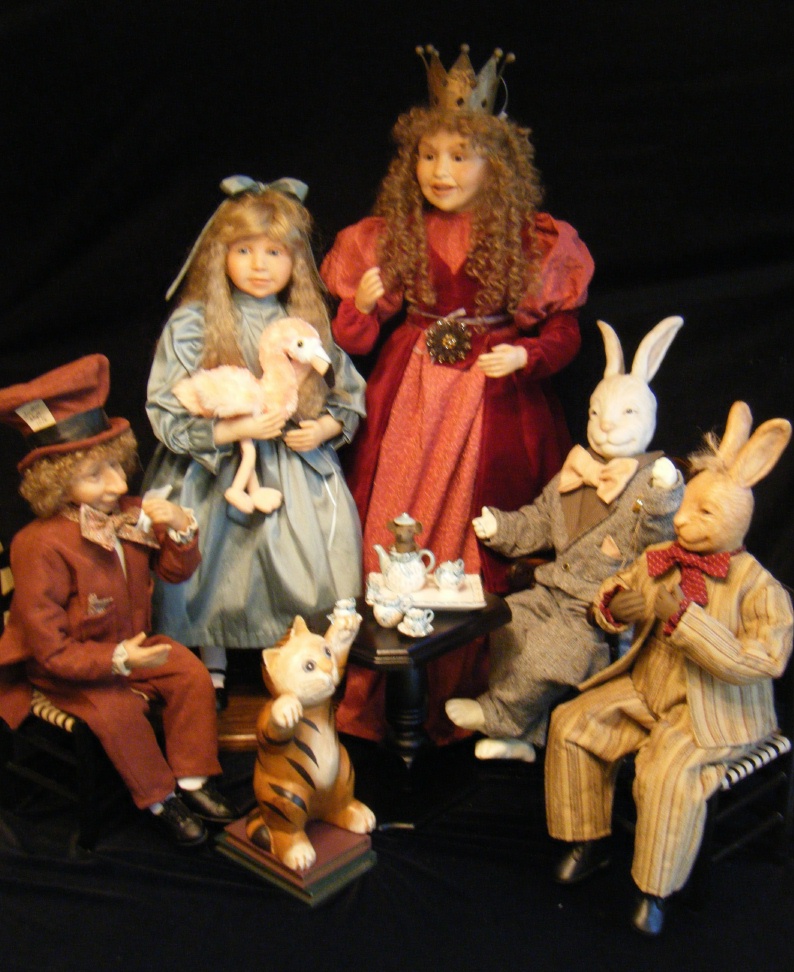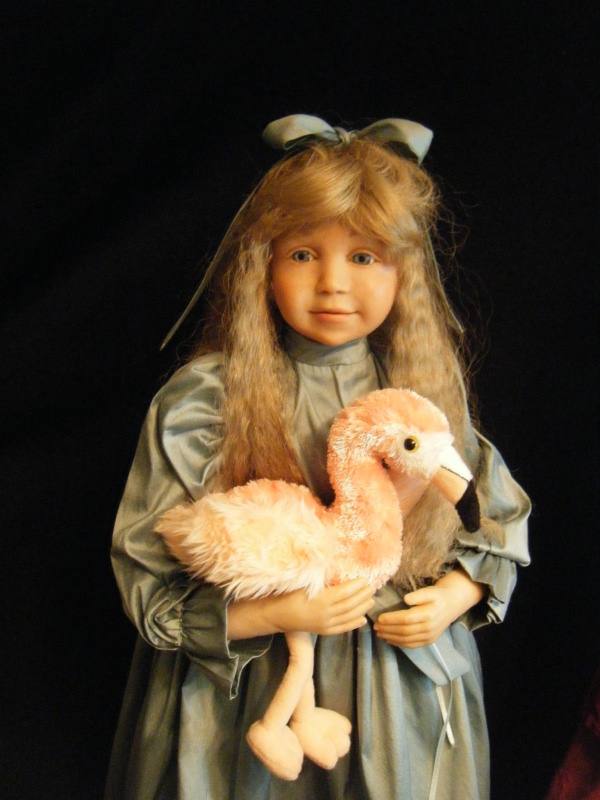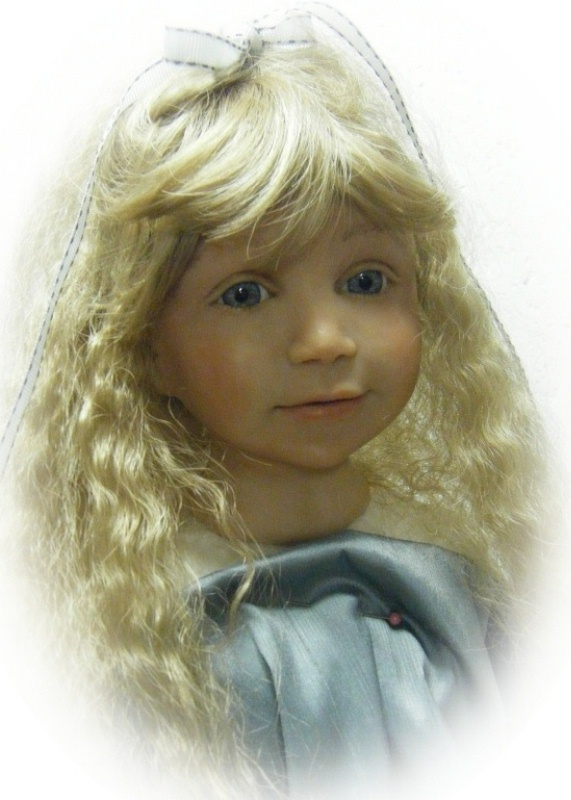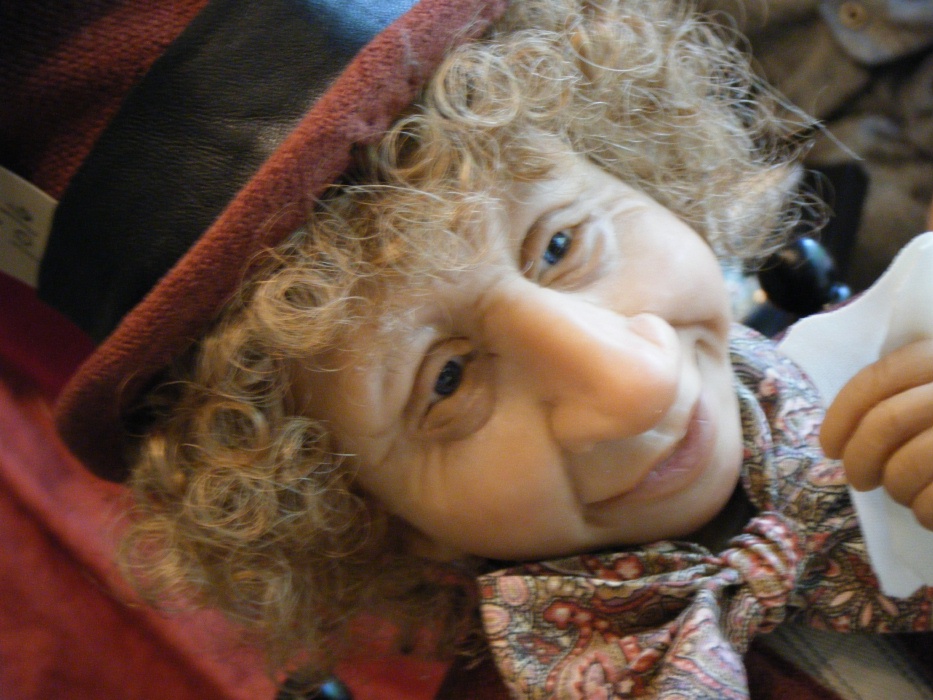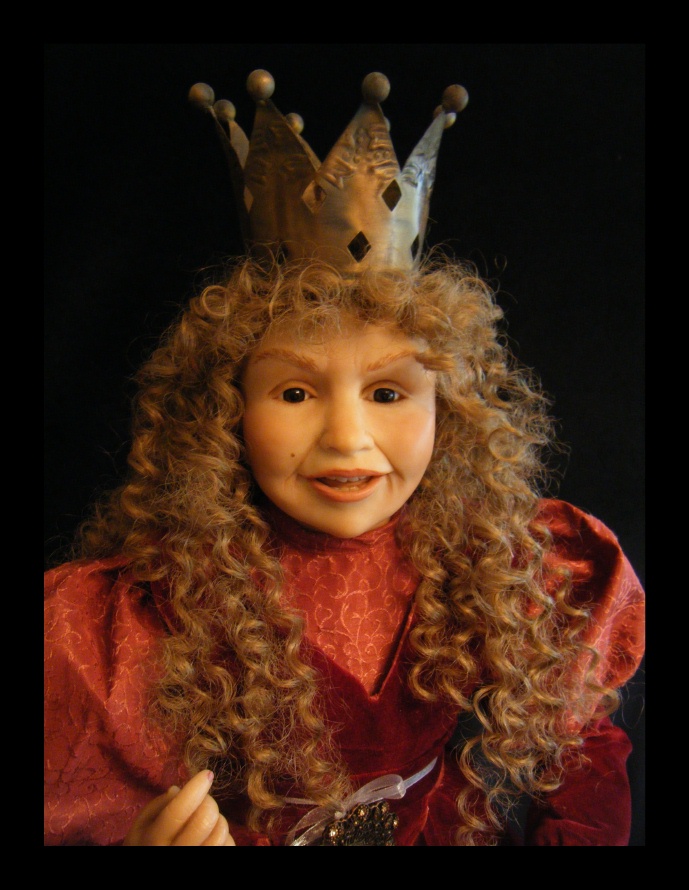 "TEA PARTY" AVALABLE
"The True Father of Christmas"
SOLD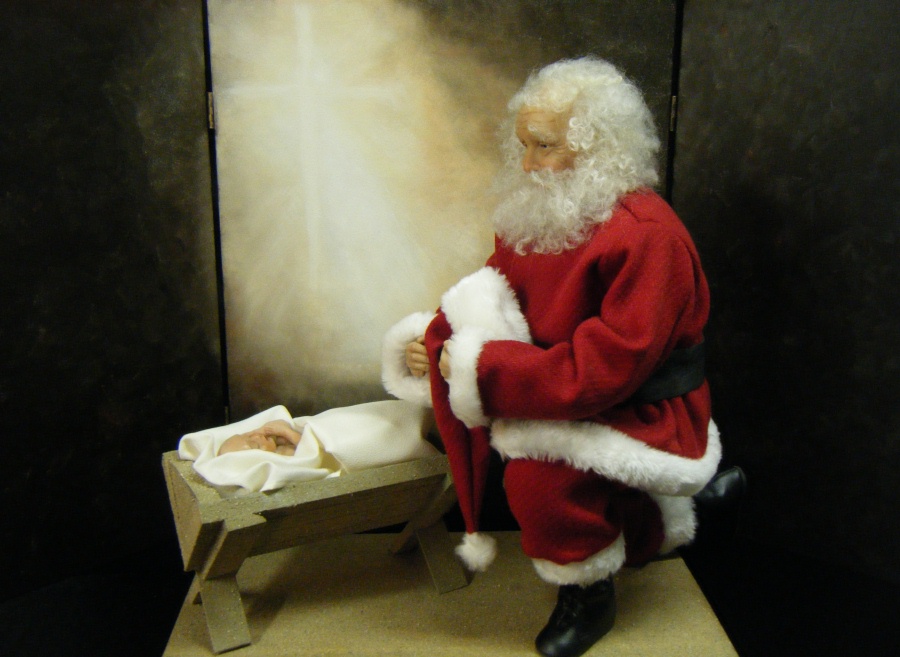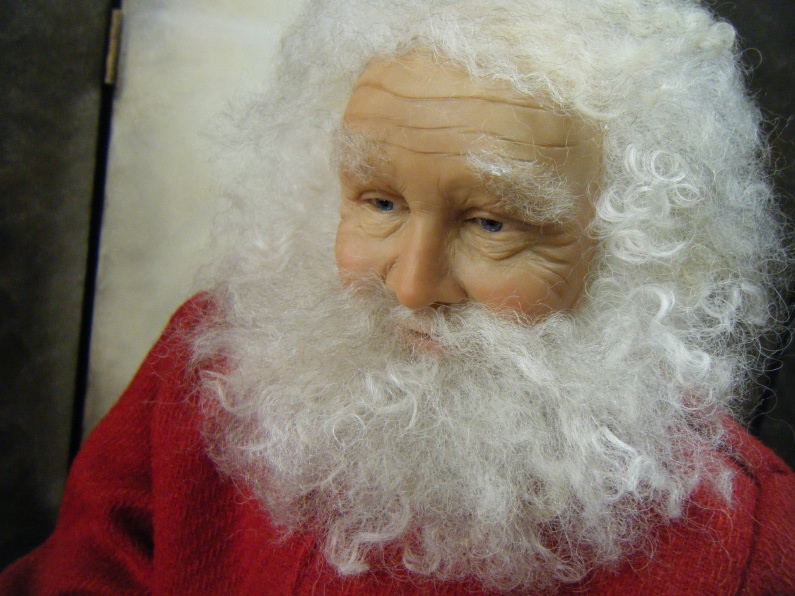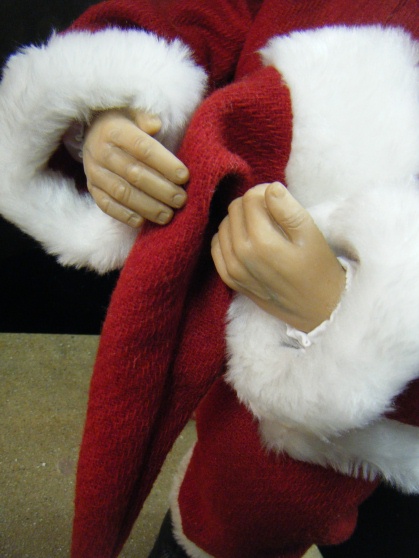 This "One of a kind" Vignette was created showing
the True meaning of Christmas with Santa bowing before baby Jesus.

The Santa and baby are both handsculpted using super sculpey clay.
Santa is dressed in a traditional red & white suit, and the baby is draped in white cloth.
The Santa's kneeling height is 21" (30" if standing). The Baby is a full sculpt and approx. 8".
Background is hand-painted in Oil, done by myself, and was made to fold and
form a unique backdrop using three stretched canvases (center canvas is 20" wide,
side canvases are each 12" wide, all are 24" tall, all three are hindged together).
The Manger, 11" x 7", was handmade using vintage wood, hand-painted,
and then finished with a sand texture. The Wood base is 11" x 20", and it also has the
sand textured finish applied.

I intentionally did not add any toys or any other items to the scene to
focus the attention to the true meaning of Christmas.
The glow of The Cross accents the deep colored background as a
bright light shining down to illuminate the tiny king.
This entire piece is truely a "One of a kind."
LIFE SIZE-Old World Santa-seated--Available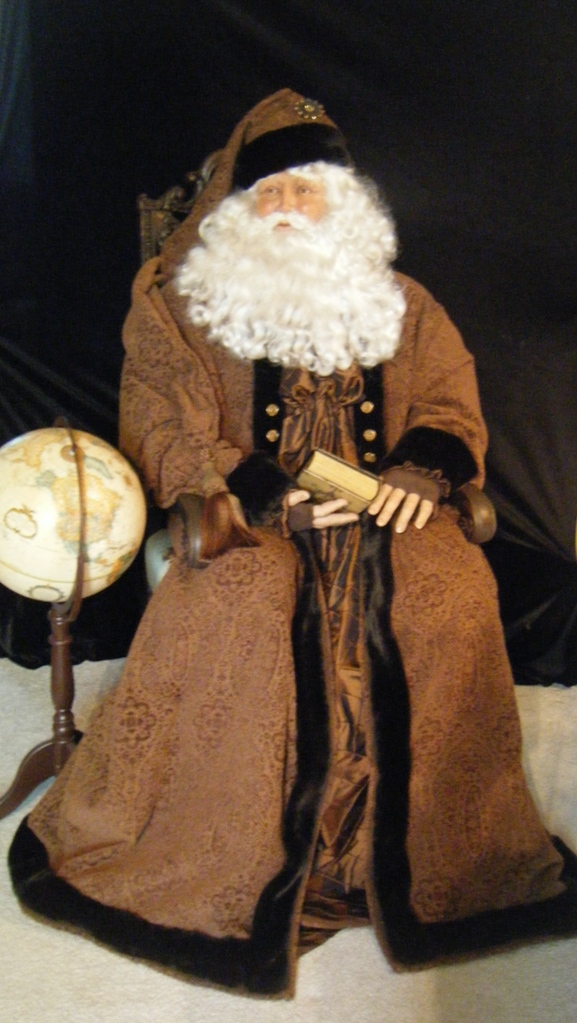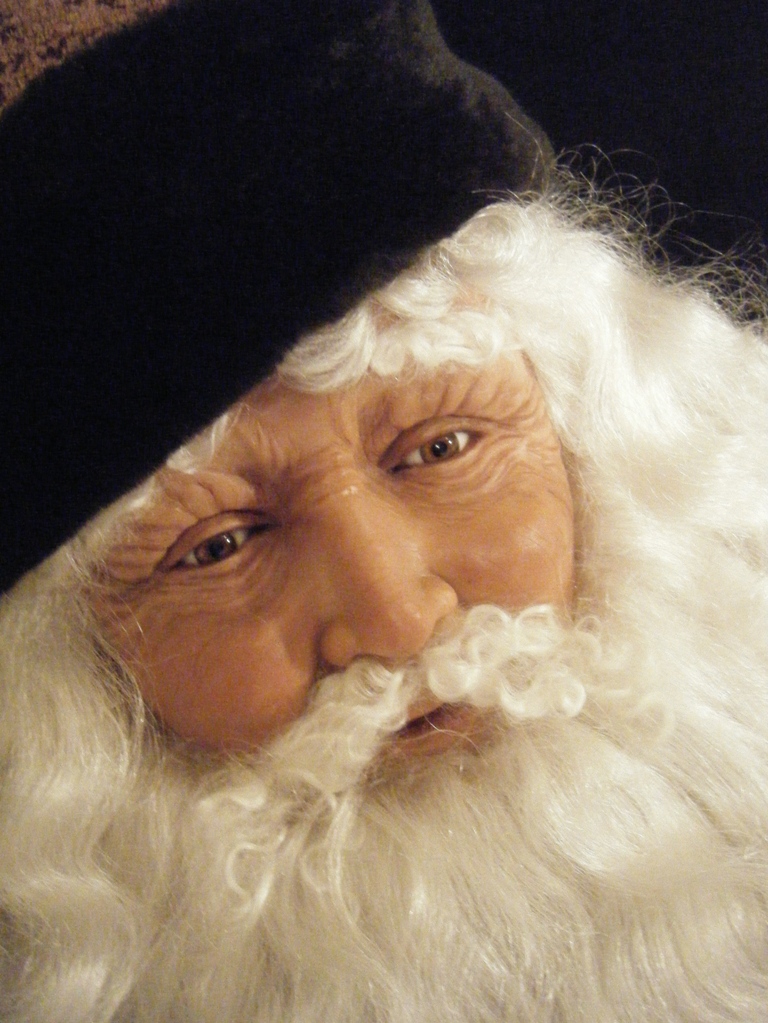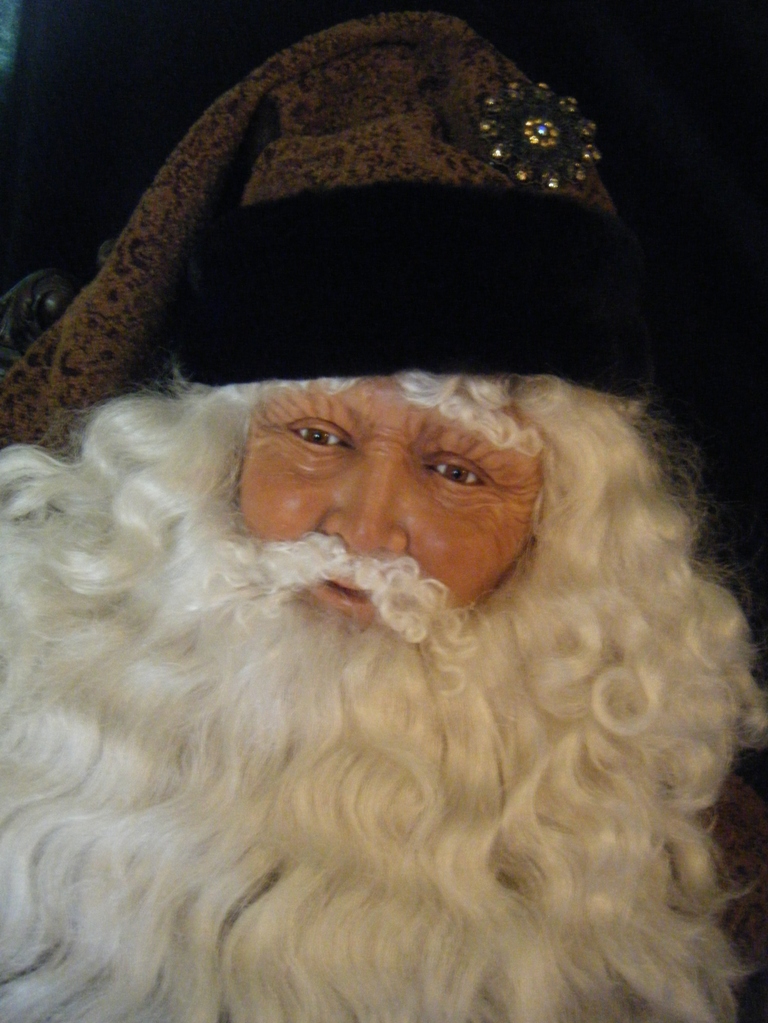 below "The Other Reindeer" SOLD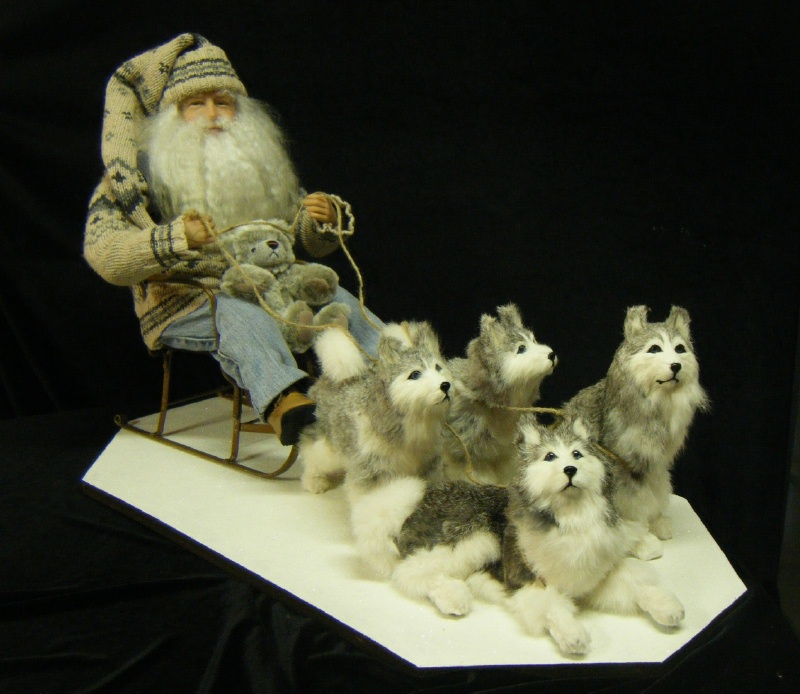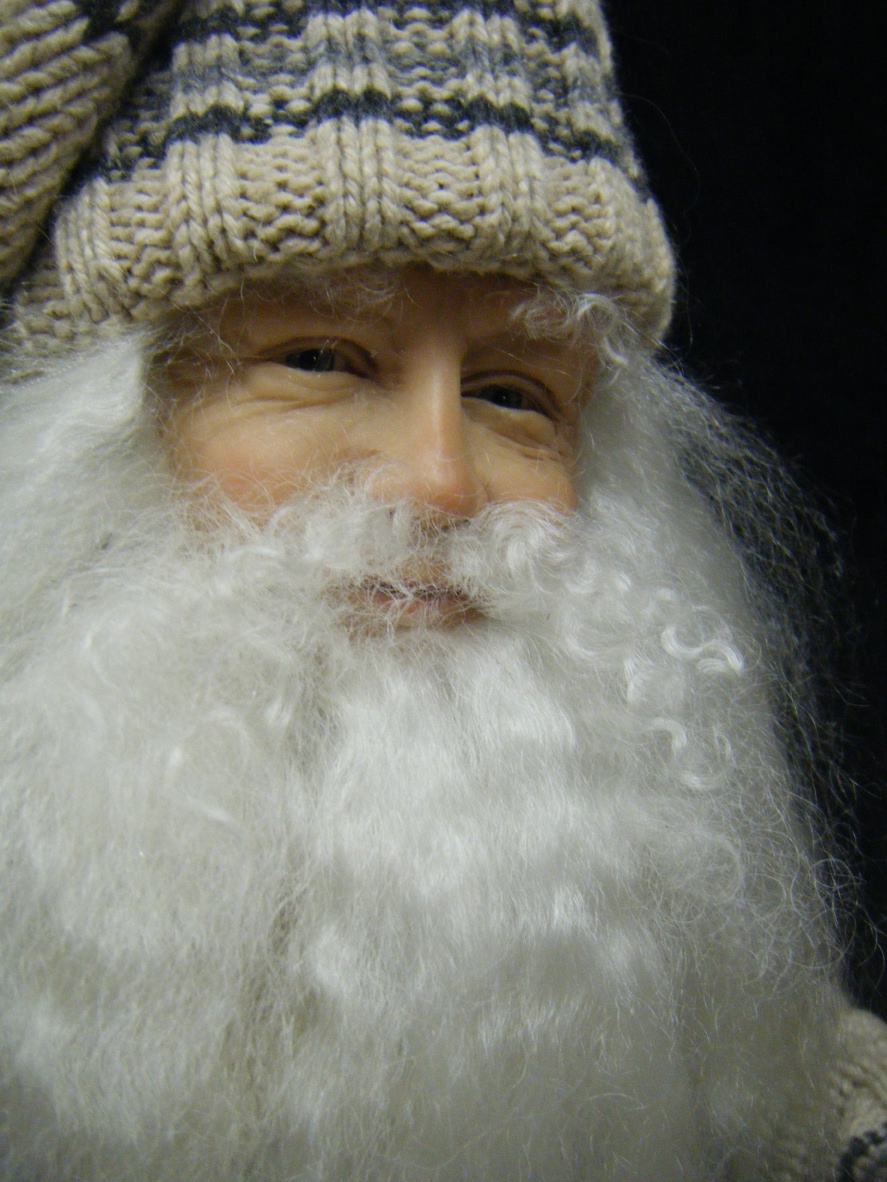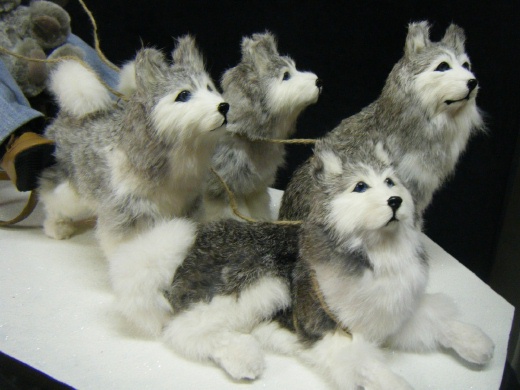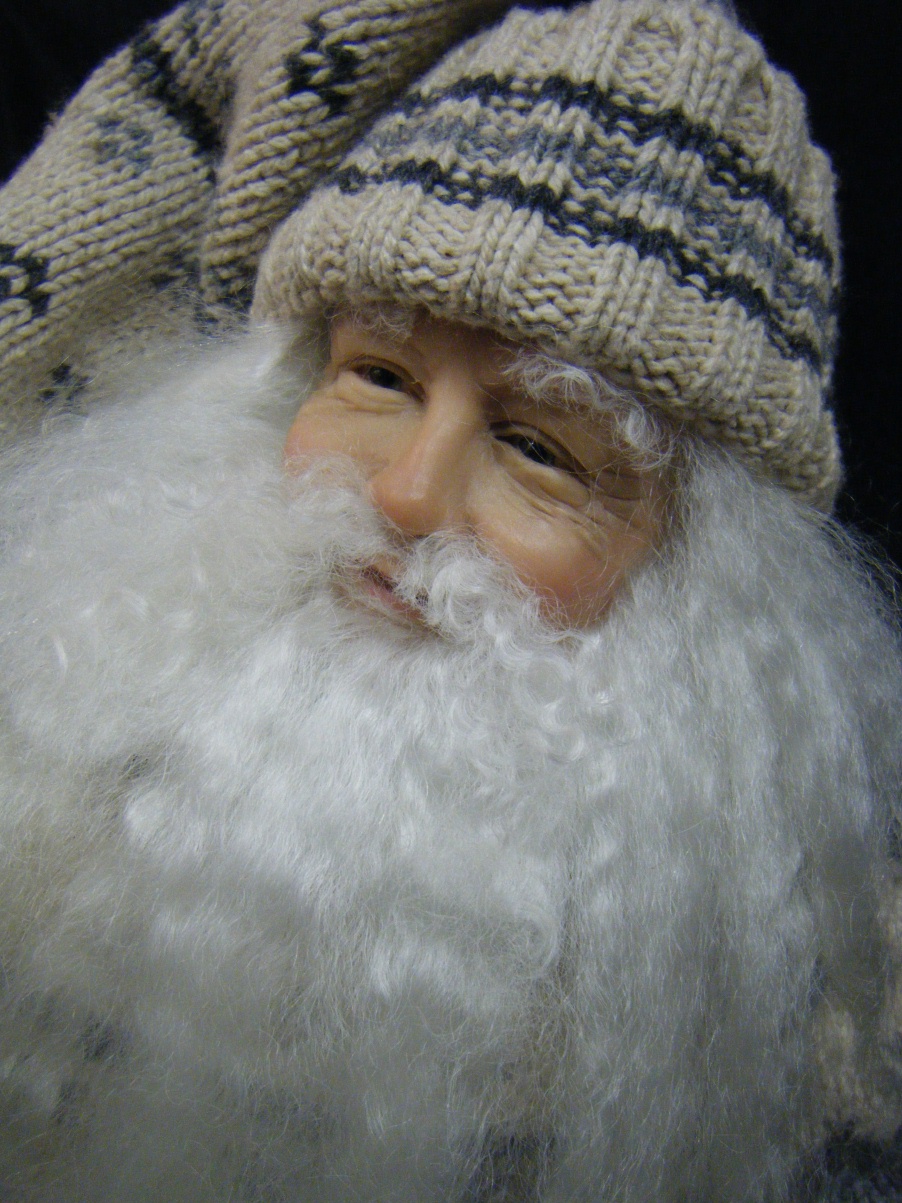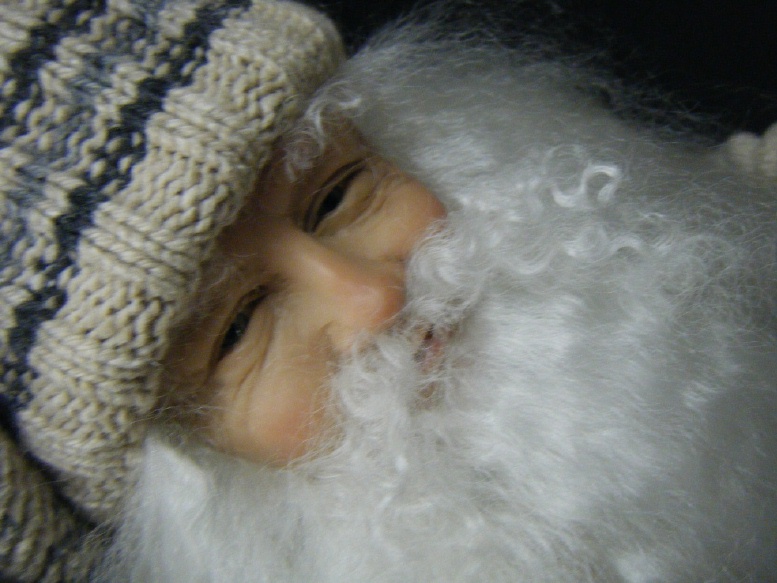 "The Other Reindeer"
SOLD
This One-of-a-kind Santa has a sparkle in his eyes, and a very happy expression.
He is approx. 22 "tall if standing.
Santa is seated in a very cute Antique wood and metal sled.
Santa's head & hands are hand-sculpted using Super Sculpey clay.
He has warm blue eyes (glass) and angora mohair beard.
He is wearing a cozy sweater with matching hat in beige, wedge-wood blue, and deep charcoal-
which goes really nice with the color of the Huskies.
He also wears faded blue jeans and work boots.
Santa accessories include a cute gray teddy on Santa's lap, along for the ride,
all being pulled by his four Cute Huskies.
He carries a gray suede knapsack with greenery on his back.
All pieces rest on a snow-painted wood base, that sparkles with with white German glass glitter.
Overall size of wood base is 32" x 17"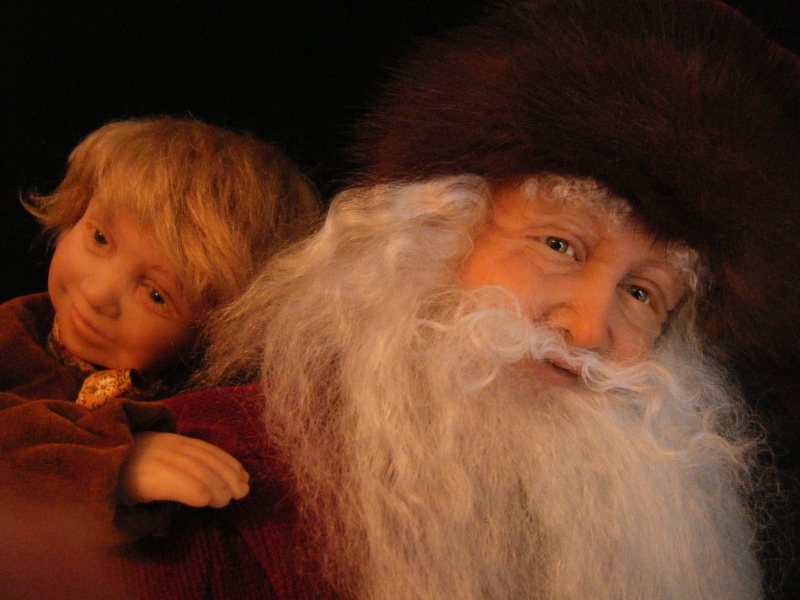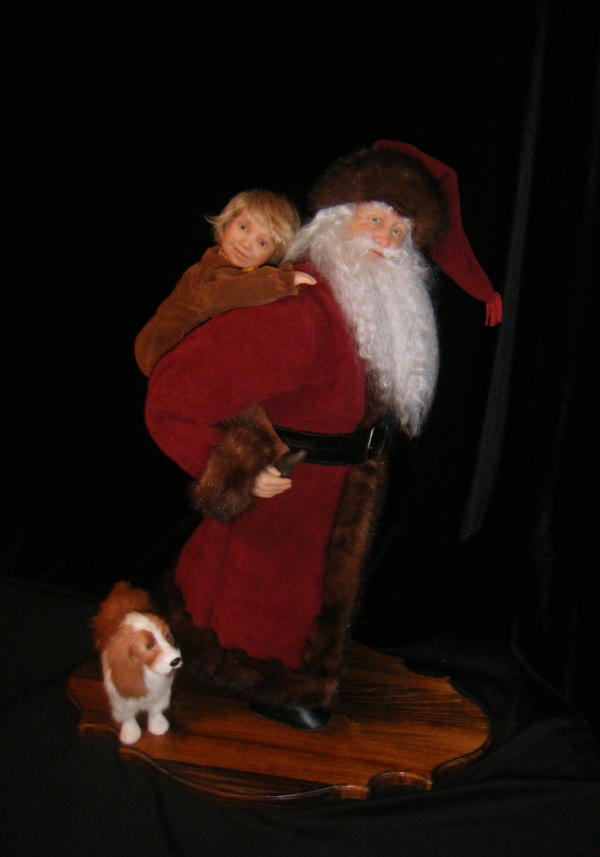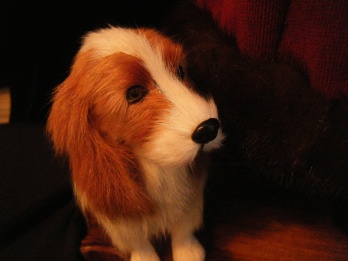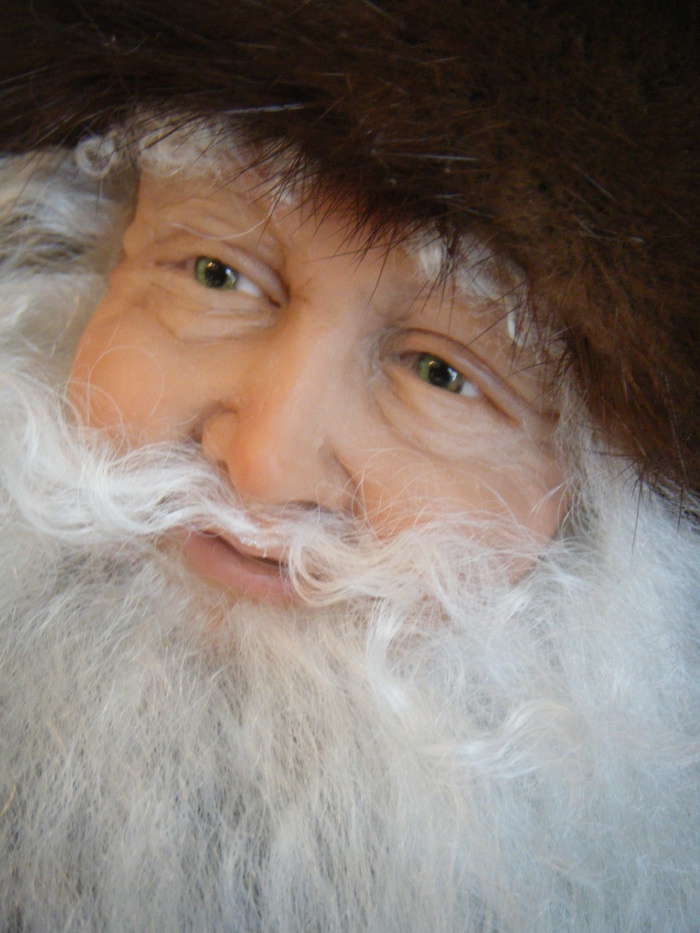 P "Piggy Back Santa" SOLD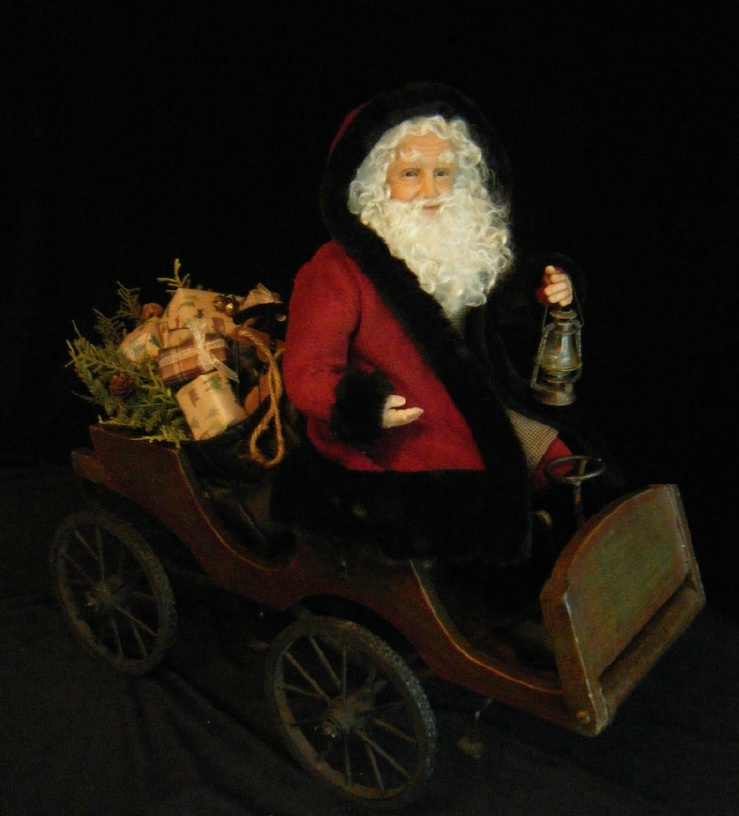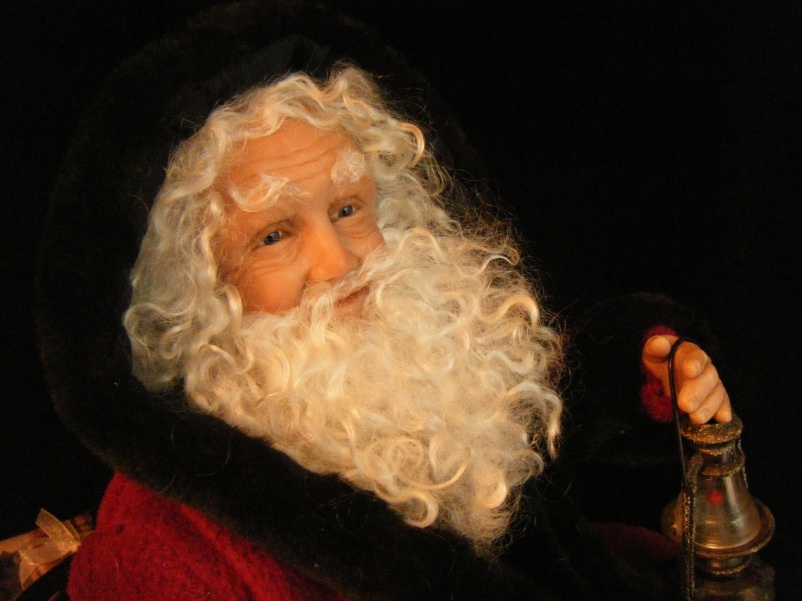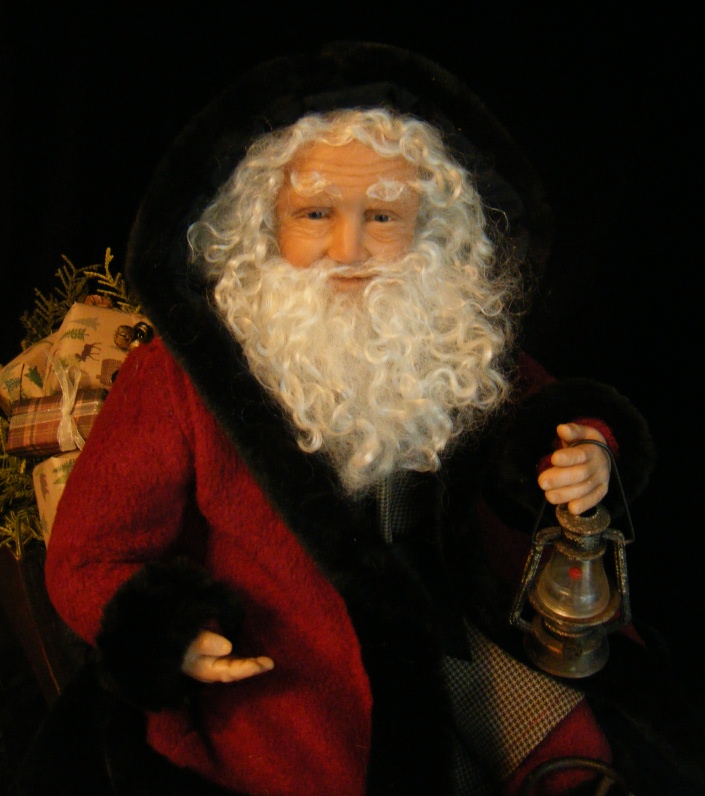 "Ole Carriage Santa "

SOLD

This Santa will be in Early American Life Holiday issue

coming out soon.

This One of a kind Santa is approx. 18" tall if standing. Santa's head and hands are hand-sculpted using super sculpey clay. Santa is dressed in a burgundy fleece hooded jacket and pants, trimmed with blackish brown faux fur. His long shirt is a brown/tan tiny check. He has a black leather belt and handmade leather boots also trimmed with matching fur. Santa is seated in a two-seater vintage-antique replica wooden carriage, 22" long x 11" deep x 9" high--with wire spoke wheels and steering wheel. In the back seat is his black leather toy bag, filled with greenery, small wrapped gifts, black toy train, and wooden toy sled.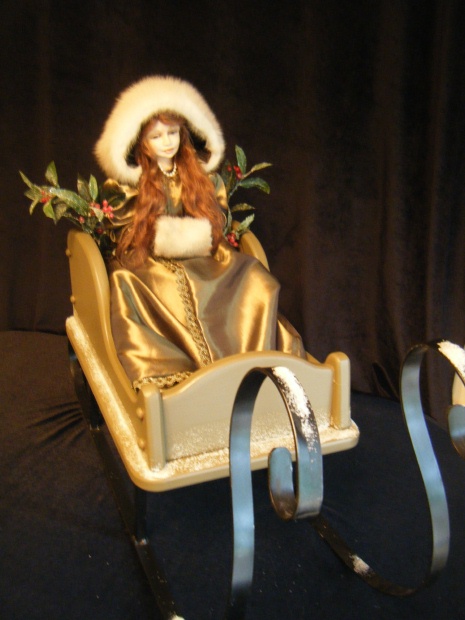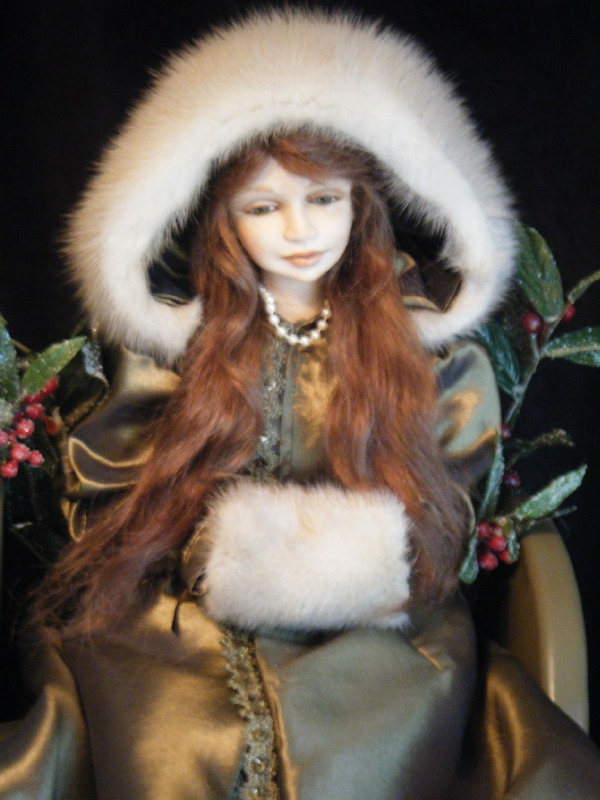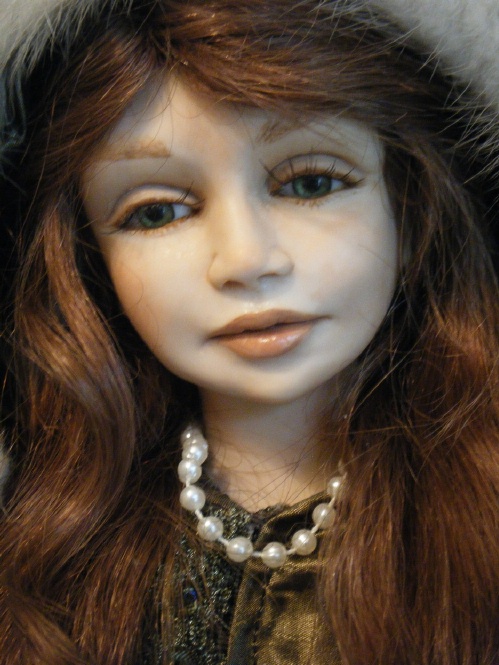 "Victorian Sleigh Ride" Available
This One of a kind Victorian young lady is approx. 17" tall. Head, arms, legs & feet are all hand-sculpted and took many hours to sculpt with prosculpt polymer clay. She has very soft features with pretty green eyes (glass) and long lashes, also a beautiful reddish brown human hair wig.
Her body is a handmade wire armature, her bottom is weighted and all covered with poly batting and cloth body suit --all handmade. Her Victorian style dress with dropped waist and is made of stretch lace in cream, mauve, and plum floral. Dress has gold/white lace trim at the neckline and waist and also handmade slipper style shoes in suede. She wears a Olive Satin coat, trimmed in real silver mink around hood, with a matching fur muff.
Coat is edged with a pretty dark olive lace sequin trim.
She is seated in a wood sleigh, 11 x 18 (box) overall length is 30" with runners.
Some pictures show the sleigh without the snow edge that was added later, using German glass white glitter to give it a snowy sparkle.