"Commissions"
Index Home Available dolls Gallery 1 Gallery 2
Gallery 3 Gallery 4 Life Size Doll Gallery Commissions
Testimonials Archives Shows Articles Teach the Children Links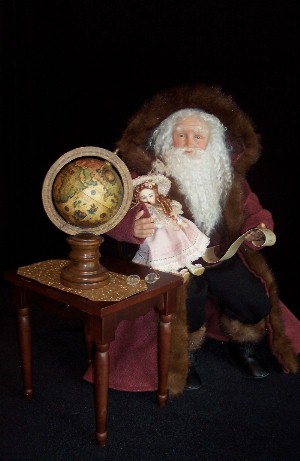 Orders are now full for 2009.
I will no longer be doing commissions in 2010 so I'm able to make more OOAK Santa's and dolls available from my website.
I hope you will come back often to see what is newly available.
Due to the time involved in in doing commissions and process,
I can only give you a estimated completion time.
Sometimes your order can take longer than expected or less time since I have many in the works at one time.
I'm sorry will not rush an order -- just to complete it in the time quoted.
Please refresh your browser if all pictures do not load.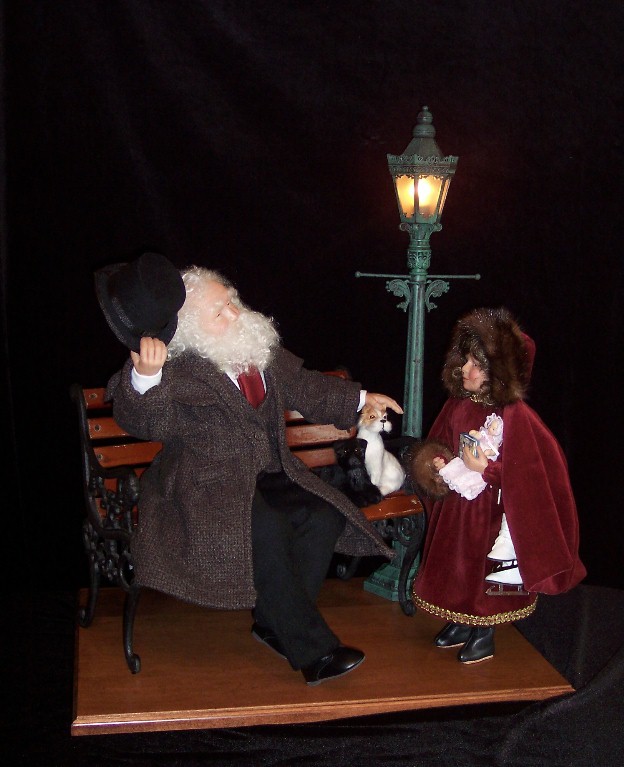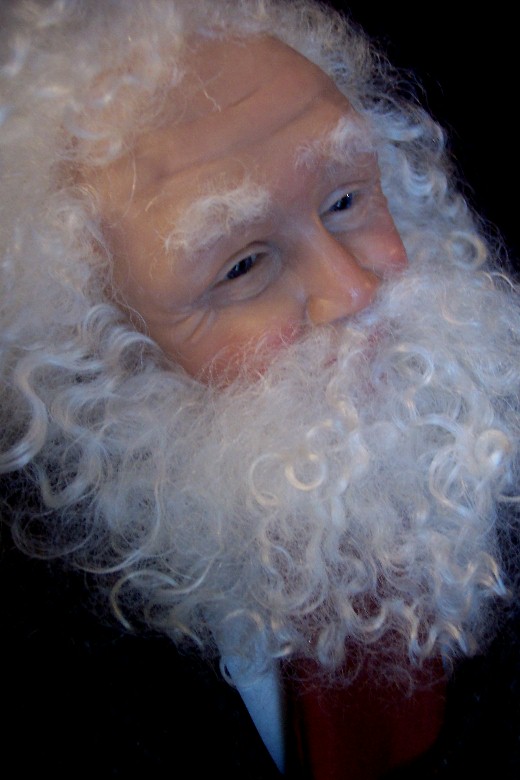 This Victorian theme vignette was a commissioned piece.
Photo shown below was used to try to capture some resemblance of little girl in portrait. Santa is dressed in a 3/4 long caped coat in black/brown tweed wool, and black wool pants.
He is tipping his hat to greet the little girl. His black top hat was hand-made with black wool and has a hand-stitched grosgrain ribbon around brim. He also wears a whiteshirt with dark red ascot at neck. Santa is seated on a wood & cast iron park bench under a lighted Victorian lamppost. The little girl is wearing a dark red velour dress trimmed in antique gold/red trim, also matching hooded cape trimmed in dark brown mink, with mink fur muff and handmade black leather boots.
Her accessories include a tiny book called "Little Dorritt" from the Charles Dickens series, with real print inside, a pair of ice skates, and a tiny collectible porcelain doll from England. Santa is seated with his two puppies, a Jack Russell terrier and Black Scottie.
Thank you Heather ! I really enjoyed making your special piece.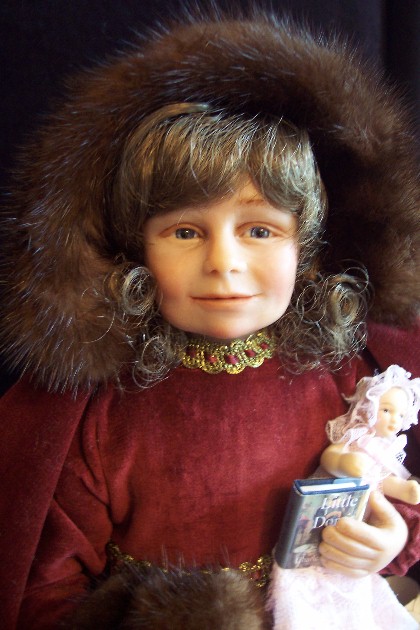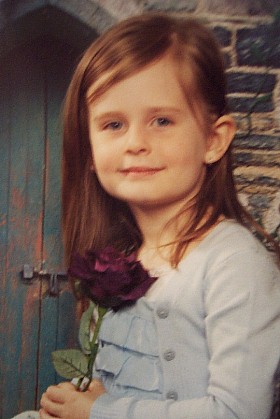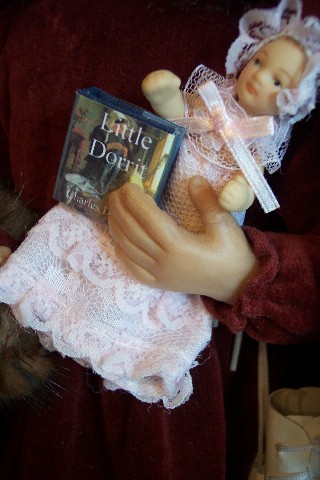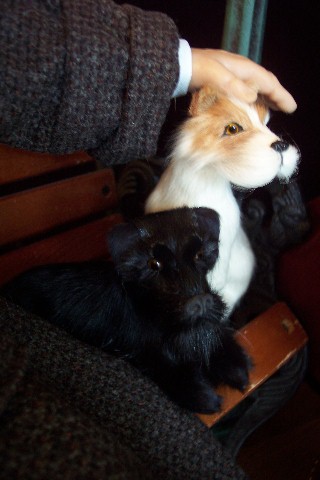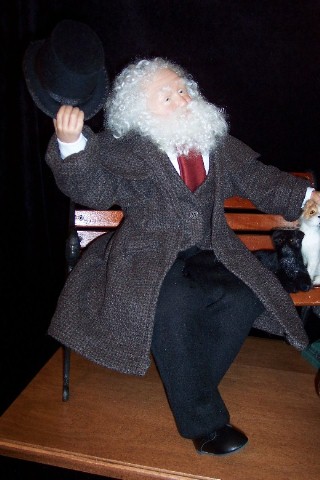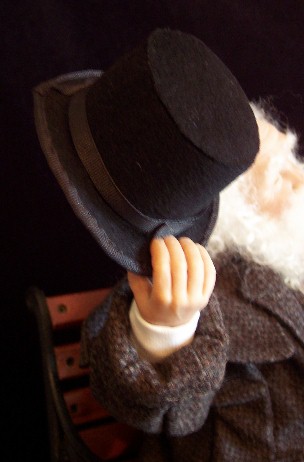 All Santa's (Below) were commissioned..... and are in private collections.
These are some example's of Santa's made using heirloom fur, etc.
Thank you. . . Judy D. for choosing me to make your special family gifts
using your beautiful vintage silver fox fur.
"MULTI-COLOR SANTA WITH DONKEY"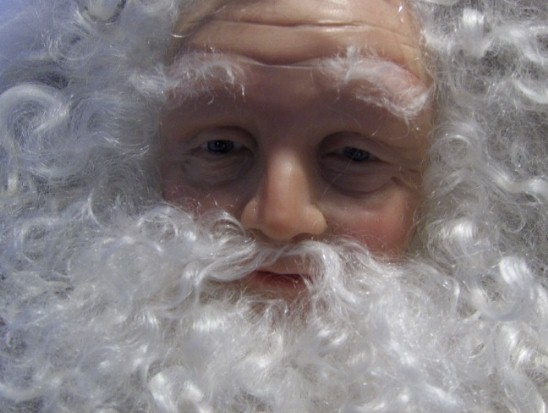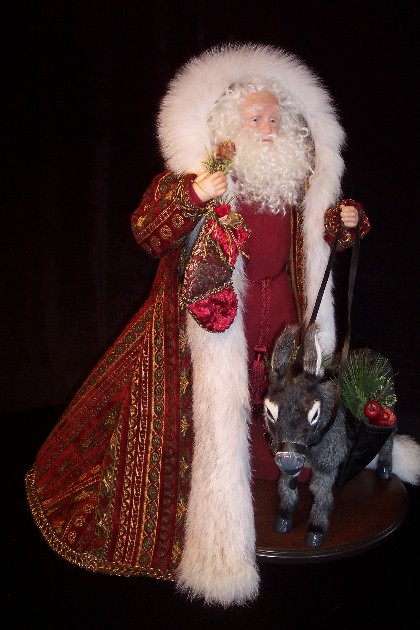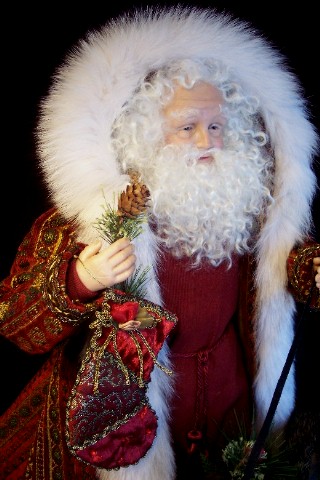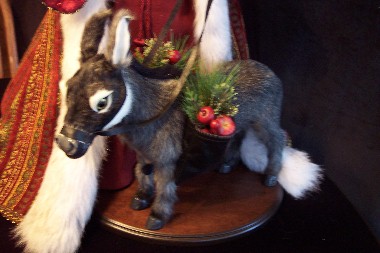 "CANDLELIGHT"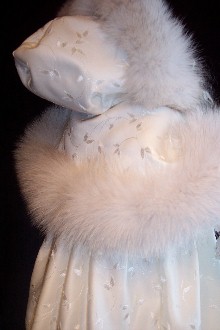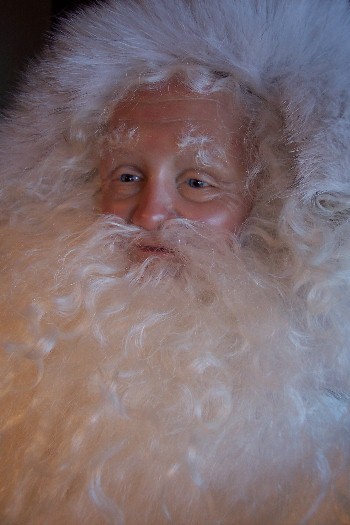 "CREAM/WHITE SANTA WITH DEER"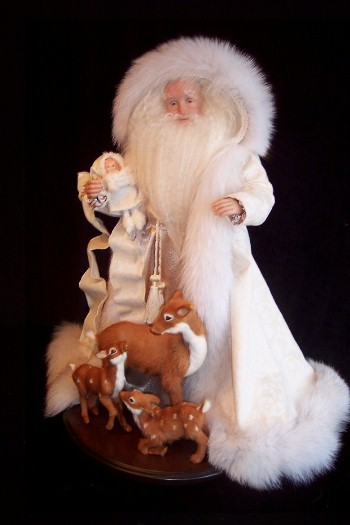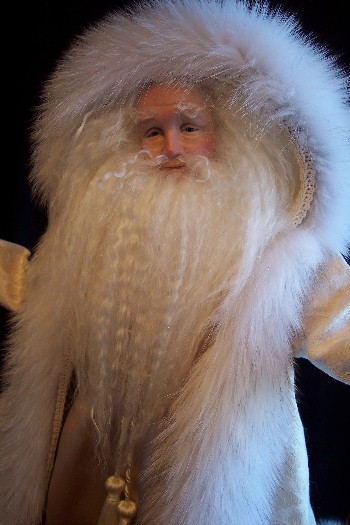 These Santa's below were done for Mary S. using her Mothers heirloom coats and furs.
it was a pleasure working with her creating her family keepsakes. . .Thank you Mary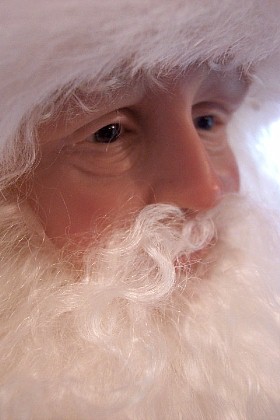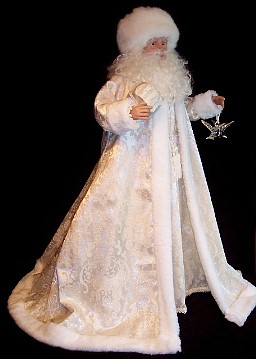 "Santa in White"
using vintage white
fur coat lining as trim.
"Santa in Burgundy"
using a vintage beige
mink collar as trim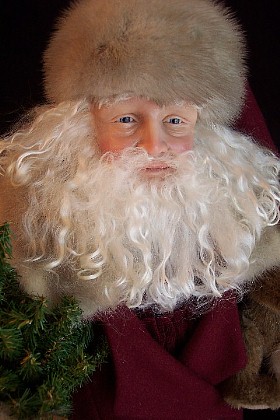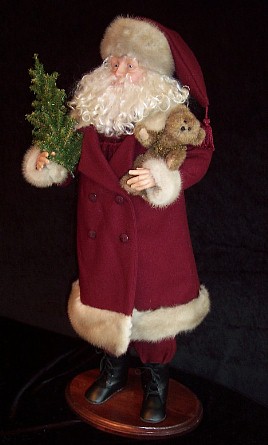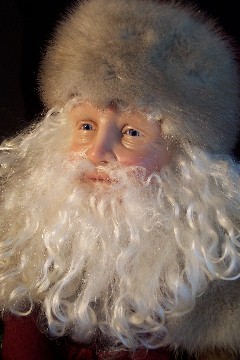 "Santa in Gold"
using a vintage two-tone
fur coat as trim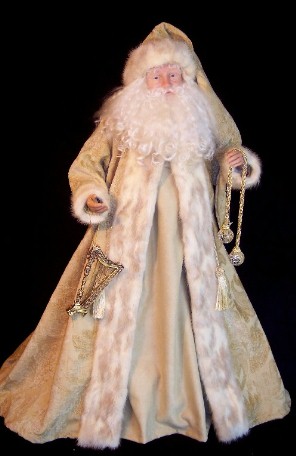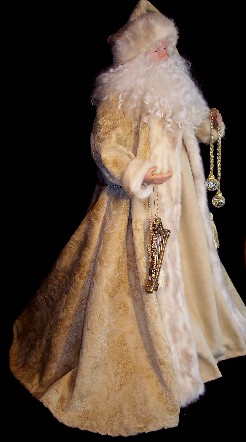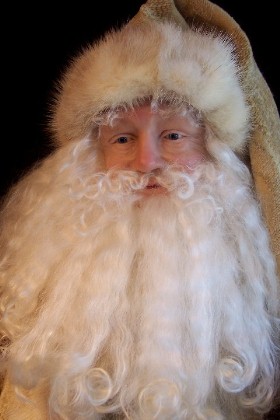 "Santa in Beige"
using a vintage brown mink collar as trim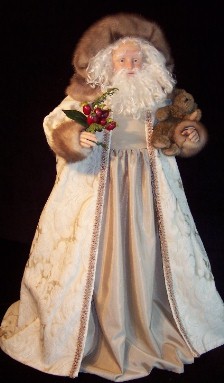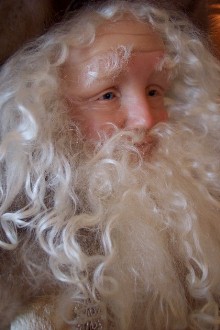 "Santa in Purple velvet"
using a vintage purple coat as full coat & hat