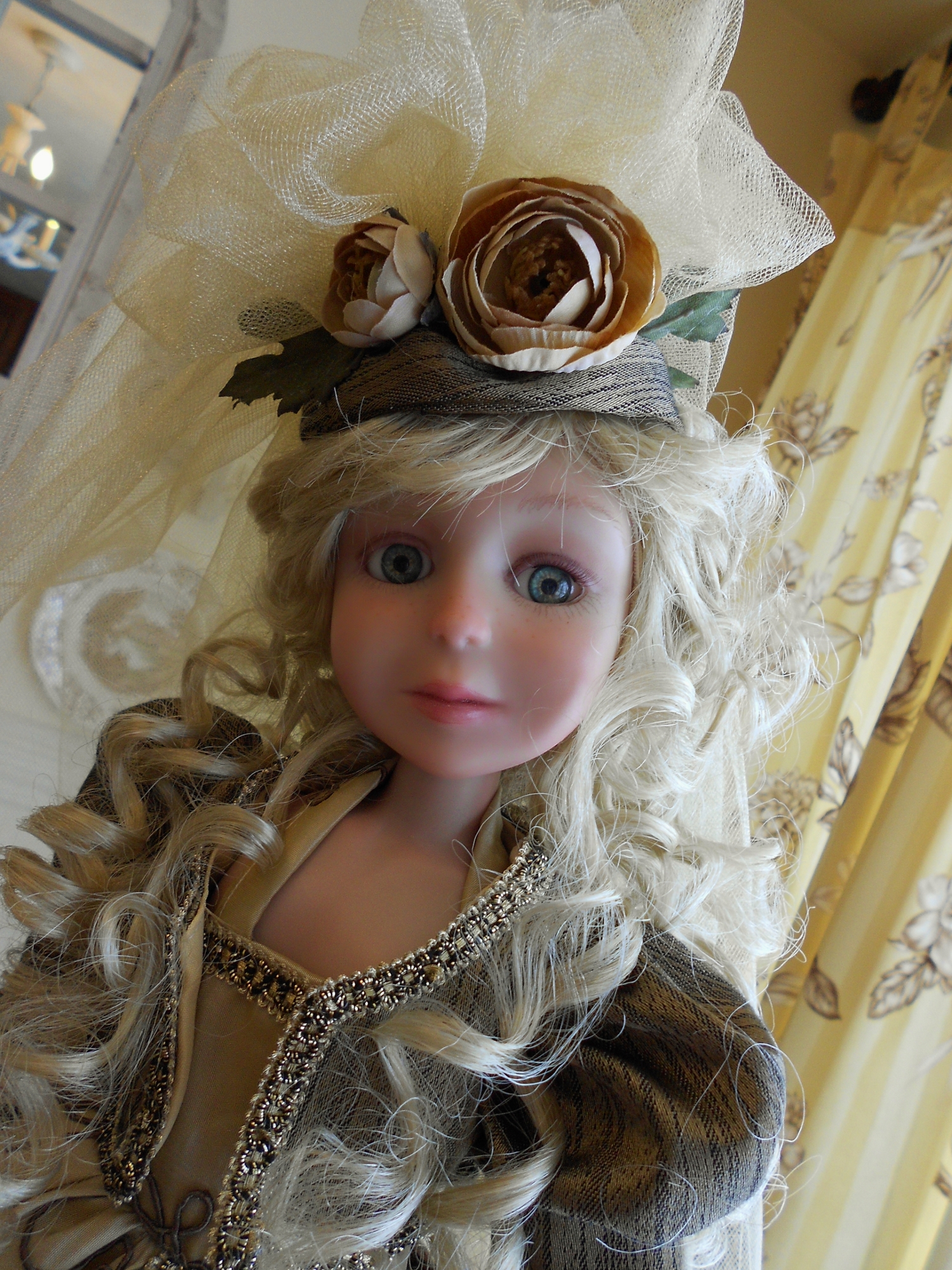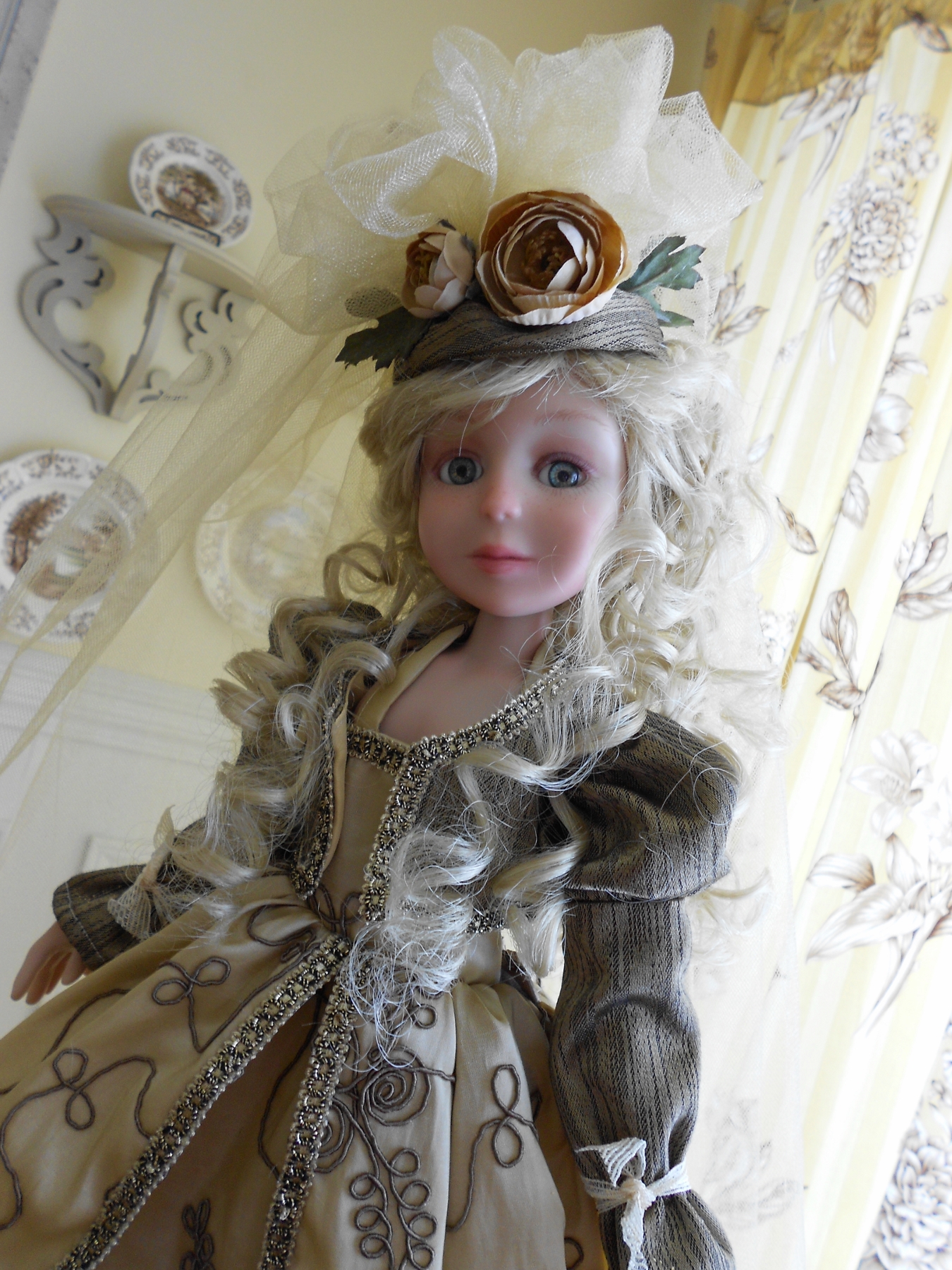 "Hannah Catherine" Ball Jointed doll- Now Available
Victorian ooak outfit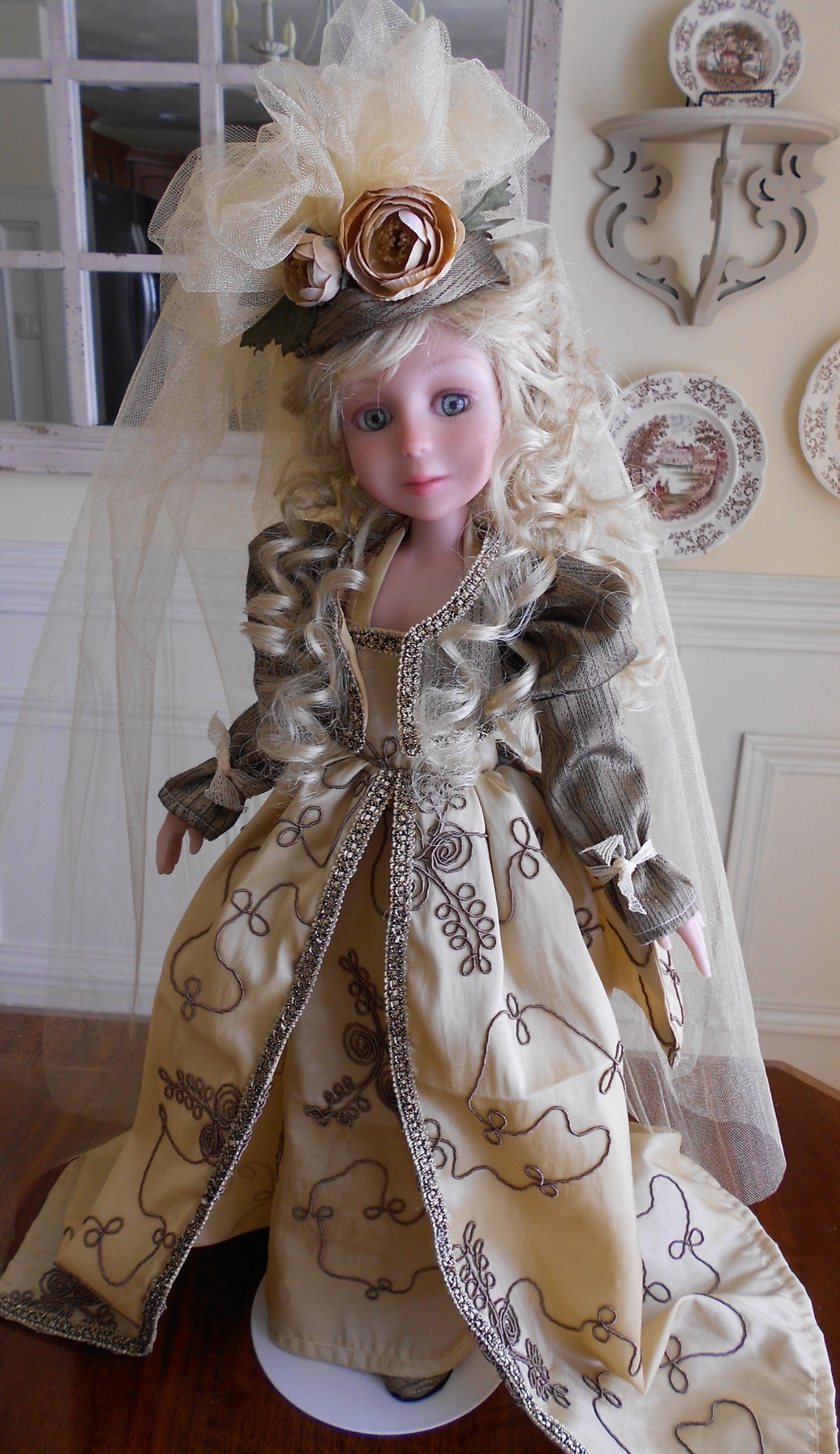 Alice and Wonderland Characters
"TEA PARTY" Available
Please scroll down to see all photos
Description:

This is a "One of a kind" Alice Vignette, abounding with details. All pieces (excluding the Cheshire cat) are Hand-sculpted using Super sclupey and Cernit polymer clays. Bodies are handmade wire armatures wrapped with polyester batting and covered in cloth. All dolls have beautiful glass eyes. All clothing is sewn entirely by myself. I do French seams on the majority of my dolls clothing, except the really tiny parts to make sure there is no unraveling inside the clothing. I do not use any patterns, so you can be sure they are completely "One of a kind".

CHARACTERS: Queen doll: is approx. 31" tall, and hand-sculpted in cernit. She has a brown(glass eyes) and a long brown wig styled with ringlets. Her dress and matching bloomers are done in a rose color fabric with swirl pattern. Her bodice overskirt and lower half of sleeves are made of deep red velour. Bodice is cut into a heart shape and belted at the waist with a large antique bronze-color broach. She wears hand-sculpted boots painted in a gold-bronze color with clay heart buttons going up the front. She also wears a small brass crown.

NOTE: white ribbon in picture around the Queen and Alice's waist will not be there, once they are on doll stands (included).

Sweet Alice: is approx. 26" tall, hand-sculpted in cernit with pretty Aqua blue eyes (blown glass). She wears a long blonde mohair wig. Her dress is (100% SILK), in soft Aqua blue to bring out her eyes along with matching bloomers and bow in hair. She has white tights and cute black shoes.

White Rabbit: is approx. 26" tall if standing. He is hand-sculpted in cernit, detailed with paint and has bright blue eyes. His suit is made of aqua and brown tweed fabric, with a satiny gold color bow tie. He holds a pocket watch in his left paw.

March Hare: is approx. 24" tall if standing -blue eyes, and he's wearing a striped suit in deep rose, tan and brown. He has a burgundy shirt and bow tie under suit jacket, and black boots.

Mad Hatter: is approx. 22" if standing also sculpted in cernit and painted. His suit has tux tails in the back and a pocket with hankey. His outfit is done in a dead rose color brushed cotton fabric, with under-shirt and bow tie are made in a flowery print. His hat was handmade with the edging hand-stitched around the brim, with black leather band and hat tag. I love his little black oxford shoes. He is my favorite character in this set, and his expression says it all.

Mouse in teapot: he's tiny, hand-sculpted & painted, made of apoxie-sculpt clay.

Cheshire cat: is approx. 9" tall standing on books. He is carved of wood and painted.

Accessories included:

A handmade wood table painted black and two matching chairs (caned seats). A darling wood rocker with carving in the back (white rabbit is seated in it). Also a Mini porcelain Tea set, two wooden books, and Alice's soft coral pink flamingo.