"Victorian Christmas Stockings"
Please order early for 2007--2008.
Custom orders available in approximately two-three weeks.
I do have a few of the white and sage stockings below--available right now--updated 11/27/07.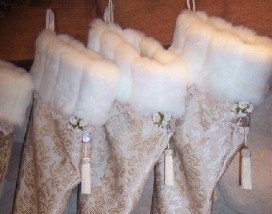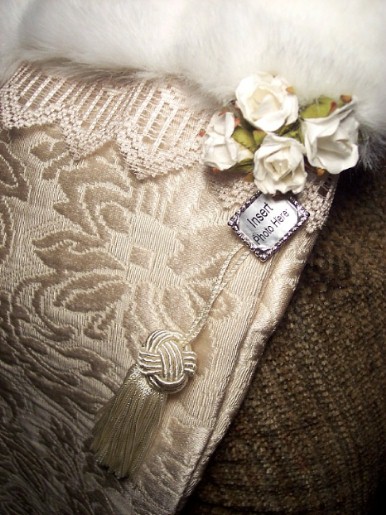 Stockings are Large and Luxurious --done in high quality fabrics--
approx. 30" in length x 12" width (fur top) x 10" width of (foot).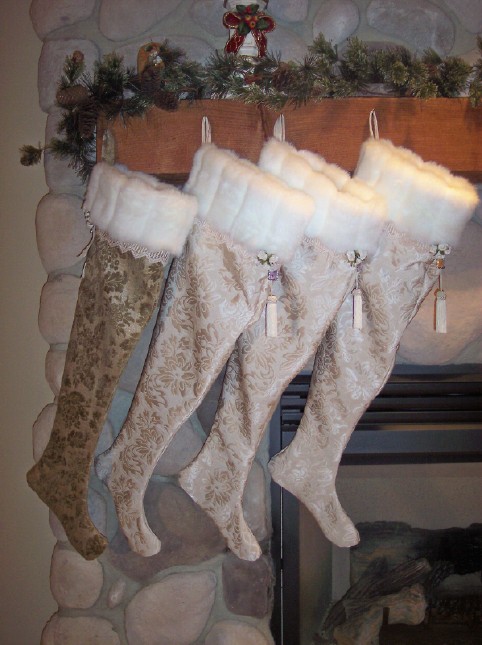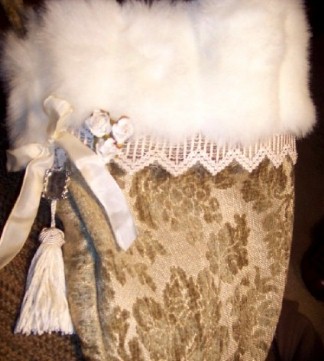 These beautiful One-of-a-kind stockings are hand-made using high quality new fabrics.
They can be used in your home to decorate a mantle, staircase or door.
Stockings include -- high quality new fabrics, faux fur, tassels, lace trim, silk or paper roses. They can be personalized for family members using small frames for photos of your children or with your own family keepsakes such as, vintage furs, charms, pocket watches, broaches, vintage buttons, jewelry, or whatever you would like to incorporate into them if you want.
These would make a very special gift for someone like grandparents, godchild, teachers . . .
(may be additional charge for adding extra personal items)
The Stockings shown here are made with a heavy off-white brocade poinsettia pattern & soft sage green tapestry and are for example only.
Color and fabric choices depend on fabric availability at the time of order. Please specify your color preferences so stockings can be made to coordinate with your home decor ! Available in approximately two-three weeks after ordering.
All stockings will have a plush & generous faux fur top, quite a bit of expense & time are put into these stockings.
Many stockings you see on other sites are half the size of these.
$ 58 each or 2 for $110 plus shipping -- paypal preferred
Additional $10.00 charge for Rush Order!
If you would like individual stockings boxed & wrapped and sent directly to gift recipient, please add additional $ 8.00 to each stocking.
Please check out my new Christmas Wreaths . . . I will be adding more pictures soon.
Home Santa Gallery Santa Gallery 2
Santa Gallery 3 Santa Gallery 4 Doll Gallery
Christmas Wreaths
Testimonials Archive Archive 2 Shows
Archives 3
Articles
Teach the Children
Links
Ordering
Contact

Seen with the heart-Karen Vander Logt
website & photos artist copyrighted 1999-2006