Gallery 2
Index Home Available dolls Gallery 1 Gallery 2
Gallery 3 Gallery 4 Life Size Doll Gallery Commissions
Testimonials Archives Shows Articles Teach the Children Links
"Santa Mo & Special Helpers"
"Bearer of Gifts"
45" tall Santa SOLD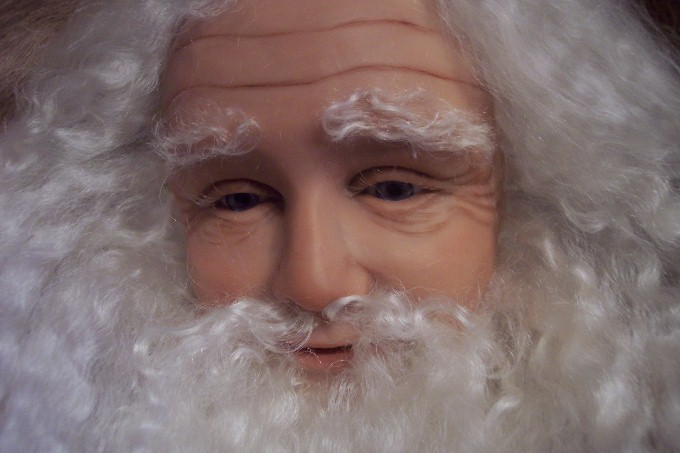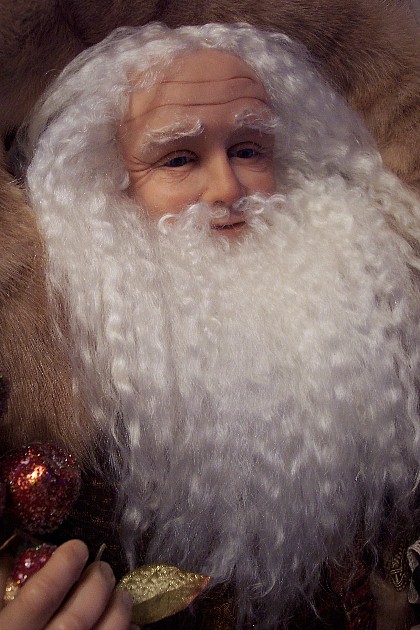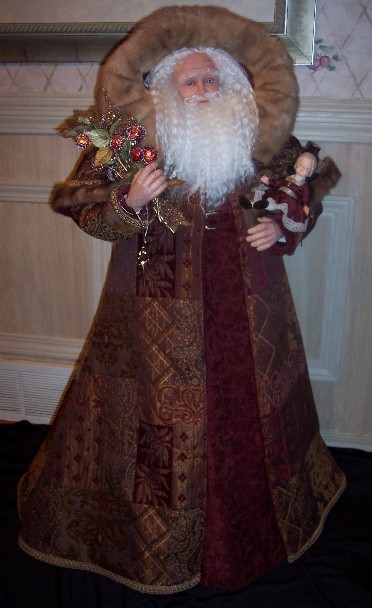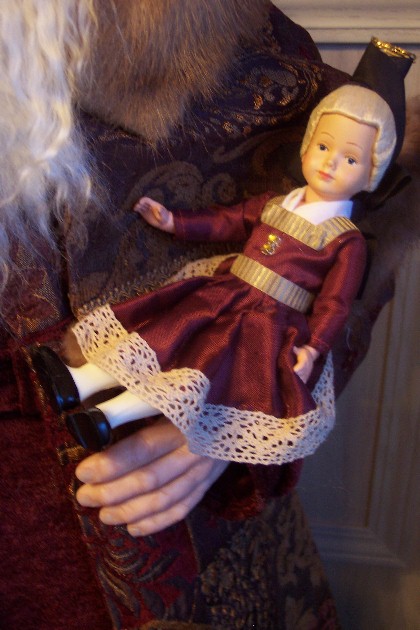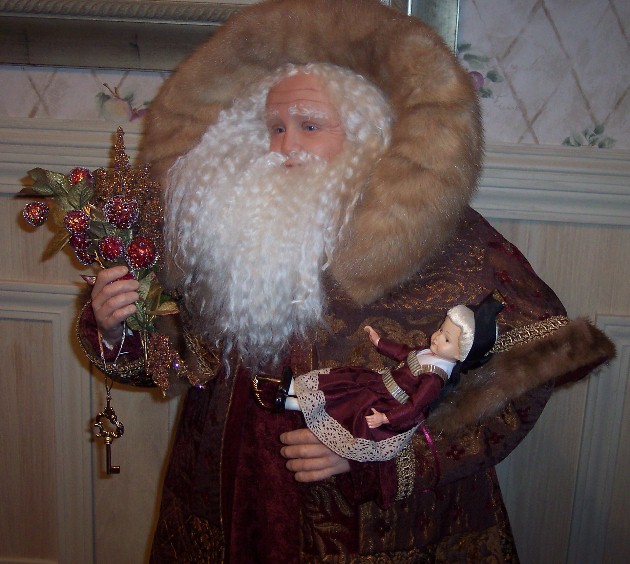 "NORTH POLE EXPRESS"
SOLD
Inspired by the Norman Rockwell print "The Toymaker"
This piece is now at the "Dancing Bear Folk Center" museum in Thermopolis, WY
sold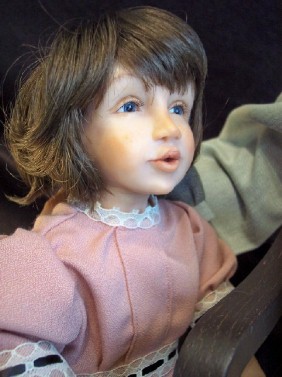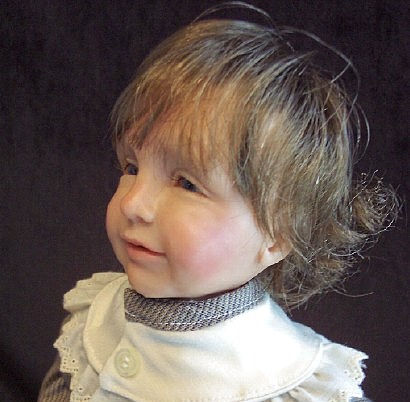 Many hours and handmade details were put into this vignette that was inspired from the Norman Rockwell piece "The Toymaker" as shown in these pictures. All three dolls are One of a kind and hand-sculpted. The old man toymaker is approx. 29" and is hand-sculpted using prosculpt. The little girl (14") & little boy (18") are sculpted using a cernit/sculpey mix. All have glass eyes and mohair wigs & hair. All their clothing is handmade using NO patterns. Toymaker's suspenders were also hand-made of leather, along with his eyeglasses made from wire. All shoes are hand-sculpted and have suede or leather applied over the shoe. Set is constructed on a handmade Rough sawn Cedar wood base which is 21" x 24" . Toymaker's antique chair was painted with crackle effect. The Little sailor toy was cut out by hand using a small coping saw by my youngest son. He then sanded it and painted it to look just like the one in the picture. The 8' x 10" Norman Rockwell print is included sitting on a hand-made wood easel.
This vignette took more than 6 weeks to complete.
This Victorian theme vignette was a commissioned piece.
Photo shown below was used to try to capture some resemblance of little girl in portrait. Santa is dressed in a 3/4 long caped coat in black/brown tweed wool, and black wool pants.
He is tipping his hat to greet the little girl. His black top hat was hand-made with black wool and has a hand-stitched grosgrain ribbon around brim. He also wears a whiteshirt with dark red ascot at neck. Santa is seated on a wood & cast iron park bench under a lighted Victorian lamppost. The little girl is wearing a dark red velour dress trimmed in antique gold/red trim, also matching hooded cape trimmed in dark brown mink, with mink fur muff and handmade black leather boots.
Her accessories include a tiny book called "Little Dorritt" from the Charles Dickens series, with real print inside, a pair of ice skates, and a tiny collectible porcelain doll from England. Santa is seated with his two puppies, a Jack Russell terrier and Black Scottie.
Thank you Heather ! I really enjoyed making your special piece.
"Believe" sold
This One of a kind Santa is approx. 26" tall and is hand-sculpted. His coat & hat are done in a soft off white snow flake pattern fabric. His hat and coat are trimmed with white faux fur. His boots are a cream color. He has blue glass eyes and angora mohair beard. The little girl is approx. 14" tall and also One of a kind doll and has handsculpted head and hands. She is wearing a fleece white hooded coat and her dress is off-white satin trimmed with at the neck and waist with a very pretty lace imported from England. Her boots are also cream color. She wears a human hair auburn color wig that was braided & tied with pink satin bows. Accessories include a small porcelian doll.
"Merry Olde Santa"
22" Thomas nast santa sold
This Thomas Nast style Santa is approx. 22" tall. He is a One of a kind Santa is handsculpted using prosculpt clay. His beard & hair are white mohair, and he has warm green eyes (glass) . He is my version of the early Civil war era Santa-- illustrated by Thomas Nast. I think he looks better in person than the pictures show. He is completely handmade using a red fuzzy felt for his coat, hat & pants, all trimmed with black faux fur. He has hand-sculpted boots that are covered with black leather, along with a handmade black leather belt. Most of his accessories are handmade--including his (clay & wood) horse on wheels, fan, books, leather canteen, knapsack and US belt over arm. His pipe is sculpted from polymer clay and carved wood dowel. He also holds a Civil war replica sword, pocket watch, wood pail, & key. Many hours went into this Santa and his accessories
" Simple Gifts" sold
This One of a kind Santa is standing approx. 19" tall. His wood base is 18" in diameter. Santa's head and hands are hand sculpted using prosculpt polymer clay. His beard & hair are made of white angora mohair. Santa is dressed in a long ivory coat made of heavy quilted style fabric, and is trimmed in white faux fur. He has handmade leather boots and a leather tie belt. Santa stands next to a wooden bucket, feeding a family of deer.
"Bearer of Gifts"
sold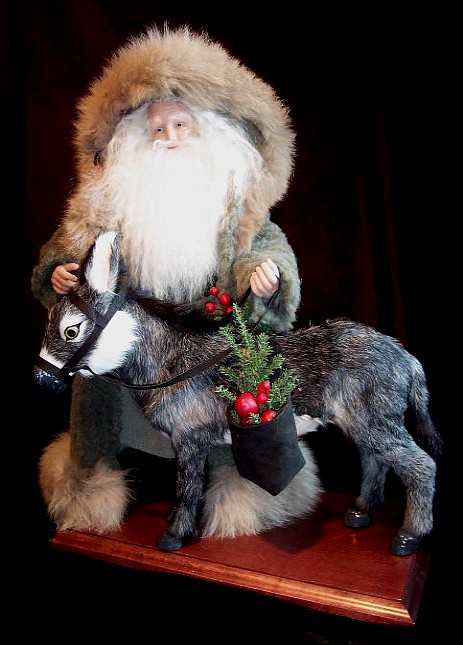 This Santa is approx. 22" tall. His donkey is approx. 17" w. x 13" tall. Santa is hand-sculpted using prosculpt polymer clay and has glass eyes and long silky angora mohair beard & hair. Santa has a sage green fleece coat trimmed in gray rabbit fur and black suede boots. His fur covered donkey has leather harness and evergreen with apples in his suede side-bags.
"Red Tapestry Santa"
sold
This one of a kind Santa stands approx. 34" tall. His head and hands are handsculpted using prosculpt polymer clay. He has glass eyes and white angora mohair that has been curled. His long coat and pants are made of a beautiful heavy tapestry fabric of deep reds, cranberry, and a little green. His coat, hood and cape are all trimmed with a ivory faux fur. He wears a beautiful soft off-white Fox fur hat and has brown suede boots under his long cranberry gown. Accessories include a wooden toy soldier and wreath of greens and apples

Seen with the heart-Karen Vander Logt
website & photos artist copyrighted 1999-2009