"The Toymaker"
Inspired by the Norman Rockwell print (shown) . . .please scroll all the way down
I'm excited to share that this piece is at the
"Dancing Bear Folk Center" museum in Thermopolis, WY
SOLD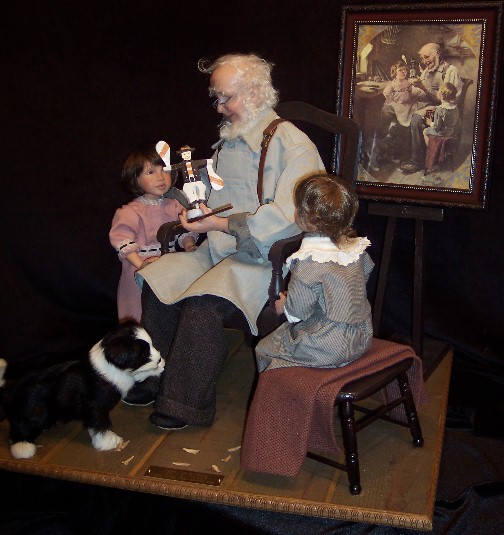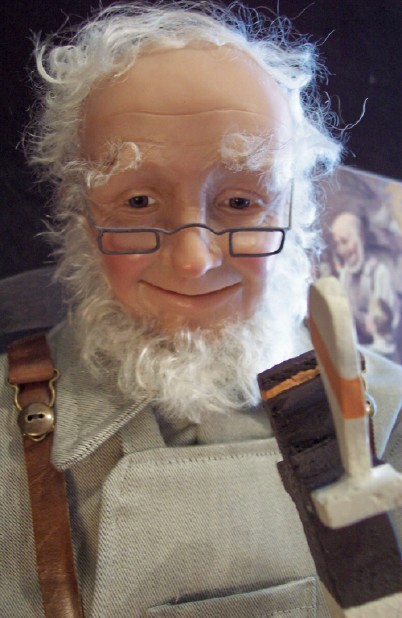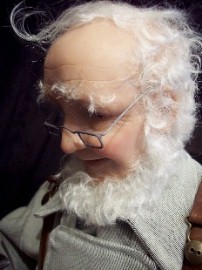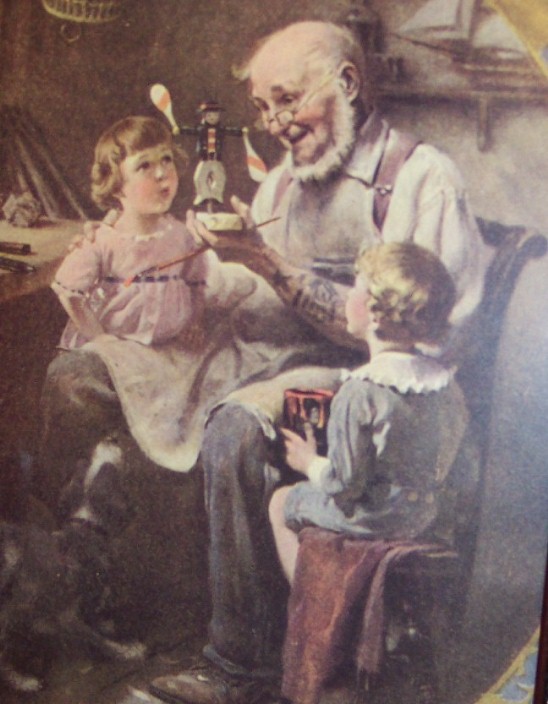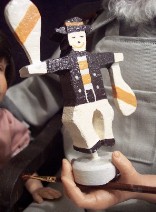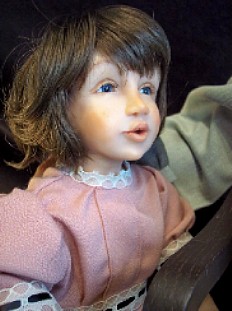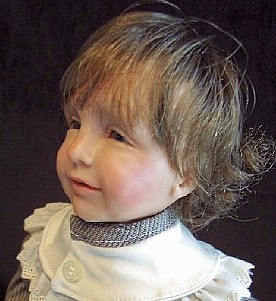 Many hours and handmade details were put into this vignette that was inspired from the Norman Rockwell piece "The Toymaker" as shown in these pictures. All three dolls are One of a kind and hand-sculpted. The old man toymaker is approx. 29" and is hand-sculpted using prosculpt. The little girl (14") & little boy (18") are sculpted using a cernit/sculpey mix. All have glass eyes and mohair wigs & hair. All their clothing is handmade using NO patterns. Toymaker's suspenders were also hand-made of leather, along with his eyeglasses made from wire. All shoes are hand-sculpted and have suede or leather applied over the shoe. Set is constructed on a handmade Rough sawn Cedar wood base which is 21" x 24" . Toymaker's antique chair was painted with crackle effect. The Little sailor toy was cut out by hand using a small coping saw by my youngest son. He then sanded it and painted it to look just like the one in the picture. The 8' x 10" Norman Rockwell print is included sitting on a hand-made wood easel.
This vignette took more than 6 weeks to complete.
Home Santa Gallery Santa Gallery 2 Santa Gallery 3
Santa Gallery 4 Doll Gallery Victorian Stockings
Testimonials Archive Archive 2 Archives 3 Articles
Teach the Children Links Ordering Contact

Seen with the heart-Karen Vander Logt
website & photos artist copyrighted 1999-2006