My passion for Art . . . .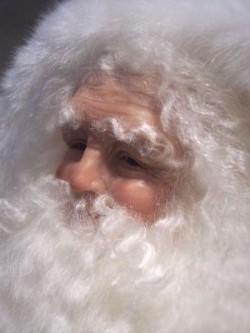 has always been with me as long as I can remember, and now I have found the perfect medium. . . polymer clay, which satisfies me completely. I love to sculpt and sew, so this combines two of the things I really love to do. I am influenced by moments in life; the warm memories I have of Santa and the holidays. I try to capture the warmth and kindness of Santa along with the sweetness and wide-eyed innocence of children. I hope it reflects in the faces of my Dolls. I hope to reach people in different ways and try to help recreate memories of their own childhood.
I'm so grateful for all of my family and being able to do what I love.
Karen Vander Logt
What goes into the doll
Dolls are made. . .
starting out with a ball of tin foil, formed in the shape of a head. Layers of polymer clay are applied over the foil head, and a face begins to take shape as the facial features are built out with clay. High quality glass eyes are put in, the dolls is inscribed with signature and date at the neck, then all the clay parts are cured. The doll body is then made with a wood & wire armature, covered with poly batting, and cloth bodysuit. Sewing begins, I do all the sewing myself using NO patterns, and each doll gets his own unique One of a kind costuming. Head and body are then assembled, and the doll becomes a lifelike little person that takes on his own personality. At last the hands are made after the doll is posed into the final theme. hands and, or feet are made with layers of clay being applied over a handmade wire hand armatures building the fingers, toes, wrinkles, even tiny veins are added. New, vintage or hand-made accessories are added and doll is completed. Because of the time involved in making One-of-a-kind dolls, only a limited number are available at any one time.
ART-DOLLS ARE FOR DISPLAY ONLY, NOT FOR PLAY
Storage . . .
Never wrap dolls in plastic of any kind, I would recommend storing in a box not crushing hair or beard.
Home Available Santa's Santa Gallery Santa Gallery 2 Santa Gallery 3 Santa Gallery 4
Bride Doll Gallery Doll Gallery Commissions Victorian Stockings Testimonials
Archives Shows Articles Teach the Children Links Ordering Contact

Seen with the heart-Karen Vander Logt
website & photos artist copyrighted 1999-2006